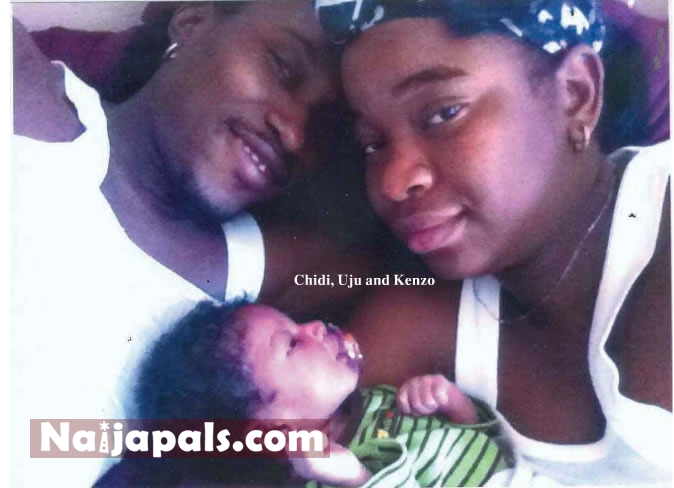 The joy of a marital life is fulfilled when a man and his wife live together in harmony, building their homes and raising children of their own.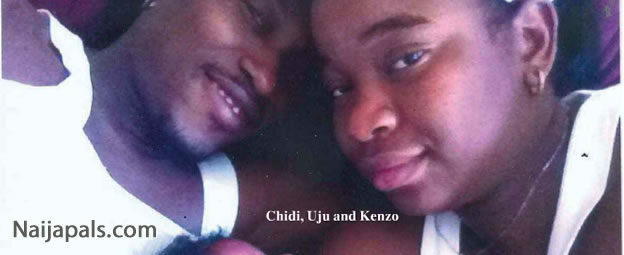 But for Chidi Odiah, a Nigerian professional footballer who currently plays for CSKA Moscow and his wife Uju Uzuegbunam, the story is different. Both of them no longer live together as husband and wife. And what seems to be a blissful period of their lifetime has suddenly become a night-mare.



Chidi and Uju during their marriage

Speaking to Saturday Vanguard, Uju said their courtship lasted for four years while their marriage lasted for eight months.

However, the marriage produced a bouncing baby boy, Kenzo Chidi-Odiah, who just clocked three months. According to Uju, the baby was two months old when the problem started.

Uju who narrated her story said, "I have known Chidi for four years although we have been married for just eight months. We met at a salon in Port-Harcourt. He was too shy to walk up to me and so, he asked my hair stylist to get him my phone number.

Uju and her son Kenzo

It started off as a normal relationship every couple would want. After a while, he became biased and felt a little bit threatened by my illustrious personality. He became verbally abusive and on couple of times, he smacked me hard on the face during an argument.

I felt it was normal for any man dating an educated and smart lady like myself but it suddenly turned into lots of accusations and harassment. However, before our marriage, we would occasionally have quarrels and take breaks from the relationship which I did not consider such an abnormal occurrence with lovers who are in courtship and getting to know each other.

We were never together. He was in Russia keeping up with his career and I had to go to the United States to stay with my elder brother and his wife for a little vacation after the marriage. Unfortunately, I became so ill during the US visit that I couldn't travel back home.I had our baby boy Kenzo in Portland, United States.

Throughout my stay in the United States, my husband visited us three times. The first time was for a meeting concerning his investment/property which my elder brother helped him to purchase. The second time was the day after our son was born but that was another terrible moment of my life. Instead of the love from a husband and a father, it was harassment at every slightest opportunity.

As if he didn't know that he has a baby boy, he didn't have any sense of responsibility for both the child and I. But, I wasn't moved. I was praying that God would touch his heart. He would come home drunk and for the next few days ,all he did was going shopping for himself.


I cried throughout his stay in America and had a terrible post- partum depression that caused me to take anti depressants. My husband has shown me no love since our marriage and my stay in the States. I didn't know what to do and so two months after Kenzo's birth, I was happy to come back home to Nigeria where I have my family and in-laws waiting to take care of me and our son.

l believed my struggle of being a new and inexperienced mother was over, as I had managed my new born baby alone with my brother's wife who is also inexperienced. I was settling down after my return when 11 days later, in my husband's house in Port Harcourt, my father was invited over by my husband's family members for an impromptu and unusual family meeting. After that meeting, I was asked to leave the house indefinitely with my mother and my two months old baby. They said Chidi instructed them to do so, on the basis that I was rude to him during my pregnancy.




I keep asking myself what Kenzo and I have done to deserve such a treatment from my husband. He hasn't contacted me since our return from US despite efforts I make frequently to get to him and verify issues with him. He wouldn't pick my calls and when he did, all he said was that he wants be alone for now and that he is not enjoying being married to me.

He then threatened that if anything happens to our son, he will teach me a lesson. I still do not understand his reasons for rejecting us (I and Kenzo). If there was a problem, we should have sat down and talked it over like we usually did in the past but instead, he sent his family against me to do his wicked and unfair bidding.

I was made to understand that a man can wake up any day and decide to reject his wife but would want his children and nothing would be done to stop him. My husband has always said he doesn't believe in court marriage and so, we didn't have one.

When asked the kind of marriage they had, she said they only had traditional marriage.

When this reporter tried Chidi's Russia number, it rang several times but he didn't pick it. Perhaps, he didn't know the number calling him. A text was sent to him but he has not yet responded to that either.
---
Posted: at 17-09-2011 02:39 AM (10 years ago) | Hero