A Nigerian-born doctor and ordained pastor, Rev. Christine Daniel, who has been convicted by a US court for peddling snake oil treatment to dying cancer patients, mail and wire fraud, tax evasion and witness tampering, faces up to 150 years imprisonment when her sentence is pronounced in December.

For years, the Nigerian pastor preached the love of Jesus. Practiced medicine for the poor. And promised a sure-cure for terminal cancer patients.

But Rev. Christine Daniel, the founder of Sonrise Medical Clinic in Mission Hills, was a fraud. She was convicted by a federal jury this week of peddling snake oil treatments to dying patients across the nation.

"This is the most egregious fraud case I've seen," said Assistant U.S. Attorney Joseph O. Johns, prosecutor in the case. "The defendant used her victims' religion to blind them to logic, to overcome their common sense. And to spend tens of thousands of dollars on a bogus cancer cure."

Daniel, 57, of Northridge, was found guilty on Monday in U.S. District Court in Los Angeles of 11 counts of mail and wire fraud, tax evasion and witness tampering.

Her sentence will be pronounced December 5 and she faces up to 150 years in prison and a fine of $5.5 million.

Her trial, which began in March, included the tear-filled testimony of dozens of relatives of terminal patients who had died while taking Daniel's product.

"In addition to giving them false hope and stealing their money, she also stole their time," said Johns, chief of the environmental crimes section.

She also failed to report $1.3 million on her corporate tax returns from 2002 to 2004.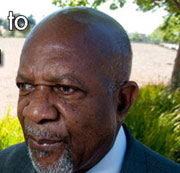 Image: McKinney , one of the jailed pastors' victims

Daniel is an ordained Pentecostal minister who got her medical degree from Temple University School of Medicine in Philadelphia.

For decades she ran medical clinics for the poor, in the San Fernando Valley and downtown, and worked in hospital emergency rooms.

She was also devoted to regular missions overseas.

"If I can just help somebody - one person," she told the Daily News in 1995. "I just want to make an impact on one person's life. Just show them love. Just let them know you care."

A receptionist at her Sunrise clinic on Tuesday said she was too busy with patients to come to the phone. She did not return a request for comment.

Prosecutors said Daniel had used her status as a minister to create trust within the evangelical Christian community.

At her clinic and via the Trinity Broadcasting Network, Daniel promised cures for illnesses from Alzheimer's disease to terminal cancer.

Her secret: remedies like "C-Extract" created from herbs gathered around the world, then blended for each individual patient.

But a chemical analysis by prosecutors found such ingredients as beef extract flavoring and sunscreen preservative, none of which could cure disease.

The cost of such nostrums ranged from $4,270 a week to between $120,000 and $150,000 for a six-month treatment, prosecutors said.

"They were encouraged to fly to Mission Hills. Stay in a flea-ridden motel. And spend the last few months of their lives drinking a foul concoction ... that tasted like sewage water," Johns said.

Daniel and her employees induced 55 victims to send roughly $1 million to the Sonrise clinic, most of whom died within three to six months after the bogus cure.

One of them was 33-year-old Paula Middlebrooks, a married mother of two from Smiths, Ala.

Diagnosed with metastatic Bosom cancer, she contacted the Sunrise clinic after her dentist told her his wife had taken the cure - and would soon come home cancer free.

After visiting the clinic, Daniel told the devout Baptist that chemotherapy wouldn't help.

The doctor said she'd need her herbal treatment to shrink the tumors and kill her cancer cells.

Family members said they had bake sales, yard sales and sold everything they had to pay up to $100,000 for bogus treatments. Middlebrooks' sister, Tammie Fleming, even quit her job to work in Chatsworth to be with Paula.

For nearly six months, Middlebrooks drank the herbal treatments daily while joining Daniel for Sunday services.

"It literally looked like mud," said Fleming, 45, of Raeford, N.C., of Daniel's herbal brew. "It was horrible. We were told it would work, that my sister would be cancer-free."

While in church one day, she complained to the physician-minister of intense and enduring pain.

"She said, `The pain is all in your head,"' Fleming recalled, adding that each patient was told to pay up at the clinic each Monday, or be turned down for further treatments.

In 2002, Daniel pronounced Paula Middlebrooks cancer free at a party held for clinic patients. By then, the cancer had in fact spread from her Bosom s to her bones and brain.

"She brainwashed them. She brainwashed us all," Fleming said. "She sent my sister home cancer free on March 15, 2002. On April 10, Paula passed away."

Another of her victims, Margaret Antwi, who traveled from Africa, was diagnosed with melanoma in 2003. Her daughter, Christiana Kwakye, was channel surfing one night after spending hours by her mother's hospital bed when she came across a testimonial about Daniel's treatment.

Kwakye, 41, of Minneapolis, cobbled together money with her four siblings and paid about $3,500 for a shipment sent from Daniel's offices. Antwi drank the brown liquid and soon after Kwakye called a number and prayed with a woman on the other line.

"At that stage you do anything," Kwakye said, trying to explain why they entrusted Daniel. "I should have known better. My mental state wasn't clear at that time."

Antwi's family bought another round of medicine that cost about $5,000 after Daniel bumped them up to a higher concentration that would be more effective. Antwi died a couple of weeks later at age 62. She had been hopeful Daniel's treatment would work as promised, Kwakye said.

"I struggle with the fact that she (Daniel) wasn't true," she said. "Being a doctor, they do no harm. Why would she do that?"

Other patients traveled to California and stayed at local motels while they were being treated, court documents show.

Prosecutors said Daniel even fleeced other clergy. In late 2003, George McKinney, who founded St. Stephen's Cathedral Church of God in Christ in San Diego, agreed to have his wife, Jean, treated by Daniel. The couple moved into their son's home in Los Angeles, and Jean McKinney took an herbal mixture three to four times a day for her terminal colon cancer.

Daniel also used a heat machine that was supposed to reduce the tumour, authorities said. The couple paid Daniel more than $100,000. Jean McKinney died in June.
---
Published at:
08:07 PM, 29/09/2011 (7 years ago)
Author:

Emmanuel McCarthy
Problem with this article? Please email reporter[at]naijapals[dot]com or visit our contact page
---
---