President Goodluck Jonathan yesterday hit back at Prof. Chinua Achebe, saying his excuse for rejecting the national honour is not in tune with the current political reality in the country.

While admitting that there are still facing challenges, the President argued that the country cannot be said to be where it was in 2004.

But the President also said as regretable as Achebe's decision is, the literary giant remains an icon.

He urged the elderstateman to come back home and see for himself the progress being made by this administration.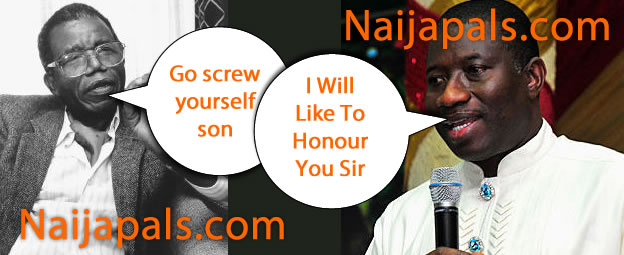 In a statement by his Special Adviser on Media and Publicity, Dr. Reuben Abati, the President said his administration is developing the country.

The statement reads: "President Goodluck Ebele Jonathan regrets Prof. Chinua Achebe's decision to reject, once again, the conferment on him of the national honour of Commander of the Federal Republic (CFR). President Jonathan is also surprised by Prof. Achebe's claim that the issues which caused him to reject the same award seven years ago, still remain unresolved.

"Coming as it does against the background of the widely acclaimed electoral reforms undertaken by the Jonathan Administration, the claim by Prof. Achebe clearly flies in the face of the reality of Nigeria's current political situation.As reflected in the immense improvements recorded in the conduct of the last general elections which were applauded within and outside the country as the most credible elections in Nigeria in recent years, the Jonathan Administration has made tremendous efforts to positively change the political architecture complained about by Prof. Achebe and other Nigerians.

"Politically, Nigeria cannot be said to be where it was in 2004 as the Jonathan Administration has embarked on extensive electoral reforms to institute a regime of electoral integrity that all Nigerians can be proud of, believing that governance will be greatly enhanced in the country if the will of the people prevails at elections.

"While President Jonathan acknowledges that there are still challenges in the path of Nigeria's attainment of its full potentials as a nation, he believes that his Administration is moving the country in the right direction and therefore deserves the support, encouragement and cooperation of all citizens.

"The President continues to hold Prof. Achebe in very high esteem in spite of his regrettable decision which may have been borne out of misinformation as to the true state of affairs in Nigeria and hopes that he will find time to visit home soon and see the progress being made by the Jonathan Administration for himself.

"Prof. Achebe remains in President Jonathan's consideration a national icon, a Nigerian of high attainments, indeed one of the greatest living Africans of our time."

Achebe was listed with other 364 Nigerians for national honours today.

In rejecting the honour, Achebe, in a short statement, said: "The reasons for rejecting the offer when it was first made have not been addressed, let alone solved. It is inappropriate to offer it again to me. I must therefore regretfully decline the offer again."


Posted: at 14-11-2011 01:34 AM (11 years ago) | Upcoming