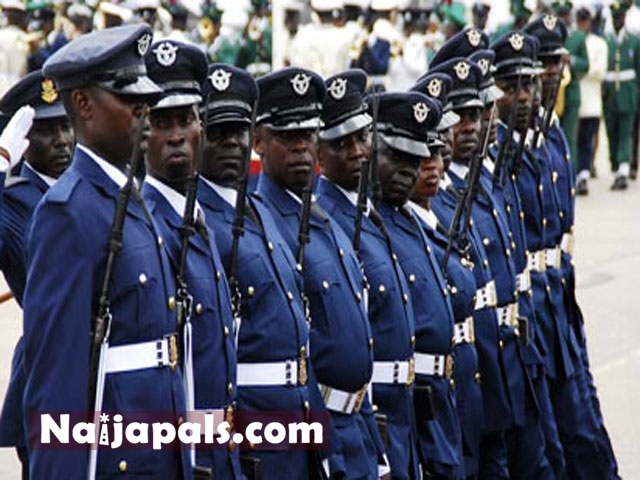 The Nigeria Air Force (NAF) yesterday paraded a 33-year-old Mohammed Musa in Kaduna for impersonating as an air force officer with the rank of a group captain, alongside one other fake lance corporal for selling fake air force recruitment forms to unsuspecting victims.

Parading the suspects at the Air Base in Kaduna yesterday, the commander, 335 Base Service Group, Air Commander Musbahu Soladoye said, "On January 11 , 2012, one Mohammed S. Abubakar lodged a complaint that he had purchased an air force recruitment form and had paid a N70,000 processing fee to the fake group captain."

Soladoye said that acting on the information, the NAF Operation Yaki team swung into action and apprehended the fake officer while attempting to collect N140,000 bait arranged by the investigation department as proceeds from an interested applicant.

According to Air Commander Soladoye, "During investigation, Mr. Musa confessed that he had been selling fake NAF recruitment forms for a long period of time to interested applicants who were ignorant of the NAF recruitment procedures."

He also confessed that he often impersonated as an air force officer with the rank of a group captain to facilitate the sale of the fake forms to his victims, and named two accomplices simply identified as Ibrahim and Abdulrahman, whom he said had been helping him in the sale of the fake recruitment forms.

Soladoye further said, "The air officer commanding , NAF Training Command, Kaduna, Air Vice Marshal Ibrahim Salihu, has called on the general public to be conscious of such unscrupulous elements whose aim is to take advantage of situations to inflict more hardship on innocent citizens."

He added that the suspects would soon be handed over to the police for further investigation and subsequent prosecution.
---