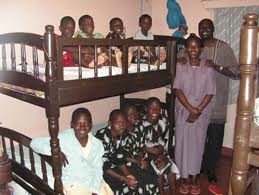 A mother of three, Mrs. Chinenye Aghandu, of Umuezike, Anara, Isiala Mbano local council area of Imo State, is now cooling her heels in police custody, for allegedly selling her day-old baby boy for N30,000.

The other people arrested for allegedly being active participants in the alleged crime include the owner of a maternity home in Nwaorieubi, Mbaitoli local government area, as well as the couple that purchased the baby.

Vanguard gathered that at the peak of labour, Mrs. Aghandu left her Anara matrimonial home January 29, 2012, and headed for the maternity home where she had planned to deliver her baby.

A villager, who did not want his name in print, told Vanguard that eyebrows were raised when she returned to her family home without her baby.
http://news2.onlinenigeria.com/news/top-stories/138237-imo-state-mother-arrested-for-selling-son-for-n30-000.html
Problem with this article? Please contact us
---