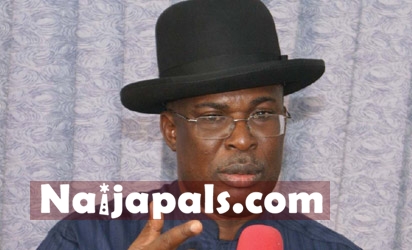 TheEconomic and Financial Crimes Commission, EFCC, Friday, filed a 6-count criminal charge against the former governor of Bayelsa State, Timipre Sylva, before a Federal High Court sitting in Abuja. The prosecuting counsel, Mr Festus Keyamo, perfected the filing processes at the high court registry around 2pm today. Specifically, the former governor who was denied a return ticket by the Peoples Democratic Party, PDP, in the recently concluded gubernatorial election in the state, was accused of siphoning over N6.5 billion from the Bayelsa State treasury between October 2009 and February 2010.

He will be answering to charges bothering on conspiracy, money laundering and obtaining by false pretence, contrary to sections 1(1)(b) of theAdvance Fee Fraud and other Fraud Related Offences Act, 2004 andpunishable under section 1(3) ofthe same Act.
Beside accusing the ex-governor oflooting public fund under the guise of using the monies to augment salaries of theBayelsa state government, the anti-graft agency in the charge sheet it enteredat the court registry yesterday, further identified three persons whose Bankaccounts, it said was used as conduits pipes for transfer of the illicitfunds.

It gave their names as Habibu Sani Maigidia, a Bureau DeChange Operator with Account No. 221433478108,in Fin Bank, Plc, Enson Benmer Limited with Account No. 6152030001946, in First Bank, Plc and one John Daukoru with Account No. 04800250000418,in United Bank for Africa Plc. The charge reads: "That you, Timipre Sylva, as Governor of Bayelsa State, with others nowat large, sometime between October,2009 and February, 2010, at various places in Nigeria, including Abuja,within the jurisdiction of the Federal High Court did conspire to commit acrime to wit: conversion of properties and resources amounting to N2,000,000,000.00 (Two Billion Naira)belonging to Bayelsa State Government and derived from an illegal act, with theaim of concealing the illicit origin of the said amount and you therebycommitted an offence contrary to Section17(a) of the Money Laundering(Prohibition Act), 2004 and punishable under Section 14(1) of the same Act.

http://www.vanguardngr.com/2012/02/n6-5bn-fraud-efcc-files-6-count-charge-against-sylva/
---