To all fans of 9ICE there are indications he's fallen in love with Toni Payne again. Next time, you see her in his arms, remember love conquers all.



Eventually, you got the Bashorun Gaa and Versus albums out, what kept you so long?

What kept us so long before we came out with that album was that a whole lot of things that happened when we released the last album. The last album took a long time before it picked up. While it was picking up we did not want to put out any other album that will stop the sales of the album. That is why we relaxed to allow the album to grow up before we released another album.



You have a lot of tracks on that double album; was it deliberate or you were just experimenting?

None of the tracks on the album was deliberate. Everything just happened the way it happened. People just put one and two together and they believe if he is saying this, he is singing about this, this is happening, and then it is a premeditated song or he has had the idea even while he was recording the song.



Some of the stuffs there I know are probably from your experiences, what are the other things that you gathered to make that album what it is?

Most of the songs on the Traditional album were personal experiences and things that go on in the society that even a whole lot of Nigerian artistes do not talk about. They are busy with drinks, woman and all that. So I just used it as an opportunity to say, let me talk about these things or subjects. At least, I will be attracting some people to listen to me because some people like to know more about these issues going on to be talked about by artistes in their songs. I thought that may be if I do that I will attract some set of people to my own side. It was deliberate.



You did experiment with a lot of producers too; I learnt in sports you do not change the winning team. Gongo Aso was a huge hit and most of the tracks were produced by Cabasa; what led to this variety of producers?

Now, if you listen to, let`s say ten hits from 2010 till now you will see a whole lot of changes in the Nigerian music scene entirely. There are lots of upcoming producers that are doing so well. And it will be so bad for us we the so-called already made artistes not to encourage them, patronize them. I say, okay come, bring one beat let me use it. It is a way of expanding the industry and bringing in new people for people to feel and say, 'yea, we accredit you; okay, you are good as well.' And it makes the industry grow at last. But that does not mean you will leave the producer you have been working with before and use the so-called new producer; no. But a little bit of this and that, will make an album naturally better because it is an album for all.



There are speculations there is a crack in your relationship with ID Cabasa

A whole lot of people have talked about that but there is nothing like that. There was a time Cabasa signed to a record label and released an album, I was part of the project. There was a time he signed on an artiste, while he was working with Olamide, I was part of it. There has never been anytime he was doing something that I have not been involved or that I will not be part of. And Yoruba has a proverb Ogun omode o le s'ere fun ogun odun. Meaning Twenty children cannot play together for twenty years." Ajasa lives in Ikorodu. Jahbless stays along Lagos- Ibadan expressway now while I live in Abule- Egba. Cabasa is in Akoka. We cannot be together as we were before but that does not mean that when we have something common to do I will not be part of it.



There is this notion that you would have had Olamide on the track that you had Vector.

(Smiles) I do not think so. I have known Vector for a long time. In-fact, Olamide is closer to me than Cabasa. His present house is like three blocks away from my house; I have known Olamide even before I knew Cabasa. And he has been with me even before I met Cabasa. So, he is like my brother. I cannot say I will push away my brother then I will now bring an outsider. But then, Vector is my brother too. Because Vector used to come and sit down when I am cutting my hair. He was a student of the University of Lagos and I go to Unilag to cut my hair in those days. So when I am in the barbing salon he was one of those boys that will sit down there and be looking at me. I did not even know until he came back and told me all these and said, he has finished and now he raps. I was like sorry, I do not know you. He said he used to come and sit down and watch my face at the barbing salon. Then I said to him okay, bring the song and I did it for him. And while we were doing that song, I was working on my own song and I said ok, why not do something on this song as well and he did it and that was it. Most of the songs that we did on Versus`s album were not meant to be. Wizkid, Tiwa Savage, they were not meant to be on the album but we lost the hard-drive where we had most of the data and the marketer was waiting for us to submit the album but we could not trace it and I just called Wizkid and he happened to be around and he said he will do it He did. I called Tiwa and she happened to be around too. She did. It is a turnaround thing that I never expected and surprisingly, those songs are now doing well.



You have not been quite consistent with your marketer, you were formerly with St. Jude, later you moved to Afrobest and then Soforte and now, T-Joe. Why did you keep changing your marketers? Is there something they or you are doing wrong?

It is not me, they are the ones. St. Jude is yet to give us a dime from the first album. We printed 50,000 copies of the first album ourselves. He sold them and he is yet to remit that money. After that he printed over 300,000 copies, he is yet to pay a dime to me or the guy that owns the record label that is Ibrahim Okulaja. I mean, you will not encourage me to do another business with such a person. When Afrobest sold out Gongo Aso and was making a lot of money, I said to him, calm down, do not use your money to promote any album anyhow. I told him a whole lot of artistes will be coming to you that you should buy their albums but if you have any artiste that comes with any material, give it to us let me give it to other people that can review it and they will tell us if this is a commercial hit. And if they tell us it is a hit, it is a hit. But he went ahead and signed almost all Nigerian artistes and the money went away. Till date, Afrobest still owes me. I cannot do another business with such a person.

When Tradition came, Gbenga Soforte and I were thinking along the same line my ideas went on the same line with him. This is because he is more educated than I am… And we did Tradition. When Versus and Bashorun Gaa wanted to come out he said he wanted the whole 65,000 and I said no. This time around I have been in the industry for quite a long time, my dream and inspiration is quite different now. And I said if you cannot do it this way with me, I cannot do business with you. So for me and Soforte, it is not that we had problem with money or that he did not do what I wanted. He did all I wanted but what I want now is not what he wants. So I have to go to who can give me what I want. And that is what happened. T Joe is doing what I want, so I am getting what I want.



Do you still have your mind on winning the Grammy?

Definitely. Most definitely. May be when I have Grammy I will retire.



A whole lot of collaborations with foreign acts and record companies are going on among Nigerian artistes and their foreign counterparts; do you have that in mind?

I have that in mind as well. And were supposed to do that on this Versus` album but because it was taking too long and people cannot wait any longer so that is why we just did it with Nigerian artistes. So, probably in my forthcoming album we will have international artistes involved.



Don't you think you are a misunderstood person even before the media and before some of your colleagues way back Coded Tunes?

Definitely, because I am the type that does not talk and it is what people hear around that they will feed with. So, I cannot blame people writing what they write about me because when they have one on one chat with me they will have a different view of my person. But how many people will I be able to have interviews with when they have the materials on their desks and they are in a hurry to meet up with their deadline to publish. But when they have a one- on- one with me they will have a change of mind.



Do you enjoy your single life?

I will not say I enjoy it. But now I think, If I say I want to go to Lokoja, I can easily go because my son, Zion will not be crying on my neck,' daddy do not go'. So, I think that freedom is there. But at the same time there are some elements that are missing in my marital life as well.



Like what?

Like waking up in the morning and my food would be on the table. And then sometimes your kid crying to me is like a joyful moment to me. So you would want to hold him; thinking I wished he is beside me but he is not there. These are the things I miss as well.



You feel more comfortable signing in Yoruba, am I right?

Yea I feel more comfortable singing in Yoruba because it is my local dialect and Yoruba has been the medium that I have used in my albums and , that has taken me this far and I will continue using that language.



Do you go the extra to get those Yoruba innuendos and idioms; do you do anything extra, like some consultations or researches?

Yea, I make researches and consultations now, but when I was doing it then, I was just doing it for the fun because those were natural and they come without probing myself, they are immediate but now when I am talking about something, I make sure they are well researched and though out and on point. Like Bashorun Gaa, I have to make researches to ensure that what I am saying is on point. And there are some topics that I want to treat now that I cannot treat them without making researches. So now, I am asking elderly people questions, I am making researches. I am going somewhere, that ok, show me the thing, let me see incase people ask me questions.



I think it is in the track, Everyday that you mentioned you pushed the cart in Alade Market, is that a real experience?

A lot of people think it is Alade Market on Allen Avenue. But there is an Alade Market in Bariga. The Alade Market in Allen Avenue, Ikeja is more popular than the one in Bariga. Then we used to push cart with Ewedu and Ugwu inside because those market women will come to the market to buy in bulk but they cannot push it but they have a load of it on their heads. So they will put one on their head and I will be pushing one in the cart behind them. And sometimes because some bad boys carry their goods away, they will say you should be in their front, not their back, so they can see the movement of their goods. So those were some of the things that I did in those days to survive.



How much were you earning per day then?

Then if you push the cart with ewedu and ugwu from Alade which is in Jagunmolu, if you push from Jagunmolu to Okoko you will earn at-least N100:00 (One hundred naira).



So 9ice, having gone through this, how well are you giving back considering the fact that many boys are still on the streets?

We did a show last year in Bariga because we realized that on Christmas Day Bariga can be so boring because when everybody in other areas is going to Lekki to go and watch shows, how many Bariga indigenes can afford it?. So I came to the people and did a show for them for free. And right now, we have done a pipe-borne water on my street and we are trying to do more. The same thing with the community I live currently and still trying to do more, like sharing textbooks to secondary and primary schools' pupils through the 9ice Foundation.



Do you forgive people when they offend you?

Yes, definitely I do because even God forgives us when we offend Him. So I have to forgive and let go.



Will you forgive Toni?

Definitely, I can call her now. We are friends. If you want me to call her now, I will call her now.



Have you forgiven her?

Definitely. Most definitely.



Will you give love another chance?

Definitely.



With her?

Definitely.



With Toni?

No, it might not be with her but I will definitely give love a chance. And it might be with her as well, who knows?



So love between you an her is not ruled out?

Yes, it is not ruled out. It is not ruled out.



What about marriage?

To give marriage a second chance, abi? Yes, I can remarry. Of-course, it is possible.



You can remarry Toni?

It is possible. Anything is possible.



What are the expectations regarding your concert that is coming up in March?

Yes, people should expect me sing songs from the new album. And it is been a long time that I did a live-band performance because a lot of people do not know that I started with a live band, even before Vaults of those days. That day I will be doing some songs live and King Sunny Ade and K1 de Ultimate will be performing live on that day as well. And all the artistes that I featured on that album will be performing that day live on stage.



Do you have a special collabo plan with KSA?

Yes, if you listen to the Versus album there is a song that I did not name, he was supposed to be on that song. But Daddy (KSA) was busy then and he could not feature on that album. That was the track he agreed to be on after listening to the song.



So what is the deal with Cecil Hammond's FlyTime?

FlyTime is the one packaging this event for me as they have done for other artistes and I believe if this event scales through it is going to be like breaking a barrier and moving to the next level.



All at Eko Hotel?

Yes, at Eko Hotel.



Do you feel you can pull fans that can fill that hall?

Definitely.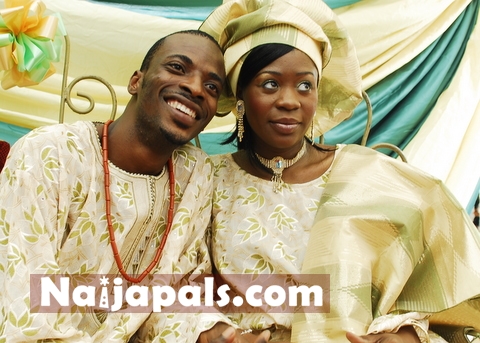 Posted: at 9-04-2012 01:35 PM (9 years ago) | Upcoming