Delta state Govt on Sunday Oct 5, set ablaze over 200 commercial motorcycles, commonly referred to as Okada, in Sapele just two weeks after ban of the popular okada as a means of transportation. The ban affected several areas of the state including Ika South, Ika North and Sapele.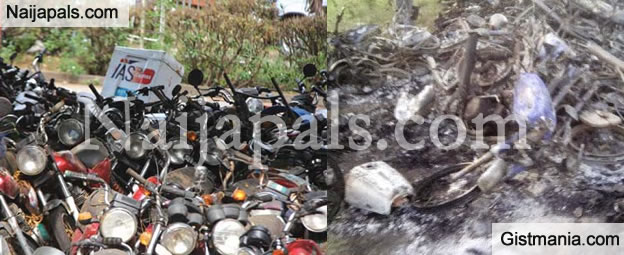 The burning of the motorcycles was allegedly carried out at the Mosogar end of the Gammon Bridge. Delta State Commissioner for Transport, Mr. Ben Igbakpa who was said to have given the instruction for the destruction has however denied knowing such exercise was ever carried out. "I am not aware of the burning of any Okada, the fact remains that any confiscated Okada is not going back to the owner. How such Okadas are being disposed is not the issue, what matters is that, all Okadas in these areas must be off the road" said the Asaba Commissioner of Transport."
He also urged commercial motorcycle operators to adopt the use of commercial tricycles popularly referred to as 'Keke Napep' at a reduced rate from the state transport secretariat of Asaba, if they must remain in business.