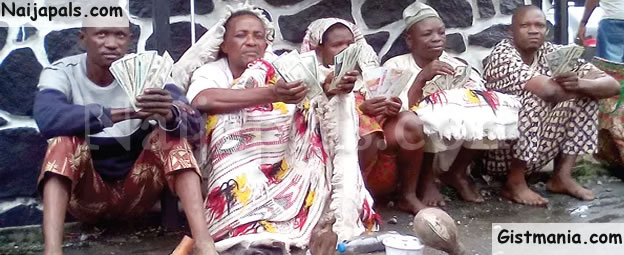 A 45-year-old fake herbalist, Musilu Alasela, has been arrested by detectives attached to Zone 2, Lagos, for allegedly defrauding a businessman of N24 million to treat severe headache.

Alasela and his accomplices, Abiola Ibrahim (29), Oyegbile Lateef (27), Akeem Alabi (40) and Yetunde Mustapha (a lady), were arrested by the operatives of the Zonal Intervention Squad at their shrine, where they claimed they healed people. It was learnt that the suspects operate a healing home at Ikorodu area of Ogun State where they pretended to cure people of different ailments.

The victim's younger sister was said to have introduced him to the fake herbalist to help him cure the headache which had afflicted him for more than two years. But instead of curing the headache, Alasela and his group started collecting from money from him under the pretense that they wanted to buy some herbs they needed for his treatment. The victim, Isiaka (surname withheld), was said to have sold his house and cars to be able to find solution to his problem.

The suspects, who were paraded yesterday at Zone 2 Police Command Headquarters, Onikan, Lagos, denied duping their victim of N24 million as claimed by the police.

According to them, they only collected N8 million. Alabi, who usually posed as Baba Awo, said: "When people come to our shrine for one thing or the other, we usually use different tricks to obtain money from them.

"We claimed to heal and also do 'mon- ey doubling,' we usually buy fake dollars from Malams (bureau de change operators) in Ibadan and put it in a drum. That is after we might have loaded the drum with stones and placed the fake dollars on top to show that we have reproduced money.

We always dupe those who seek quick wealth. This is my second operation. I joined the gang to sustain my family members. I regret my action." On his part, Alasela said he was the first person to start the healing home, before others came to join him.

He said: "I allowed them to join me because we are all from Ibadan. "I was the first person to dupe the victim before others joined me. They got the victim's phone number through Yetunde who usually poses a white witch. She is the one who always prays for people who come to the shrine for solution to their problems." Another of the suspects, Ibrahim, said he got the Isiaka's phone number from Yetunde and they started a different conversation on how to cure him. But, according to him, all the suspects usually share money collected from victims.

He said: "When I got the victim's phone, we invited him to our office, where we billed him N5 million. "I got his number from my girlfriend, Yetunde's phone and we called him that we can cure his headache.

We invited him to our office and coincidentally the headache was cured. He said he also wanted to own his own company; then we gave him the 'treasure laying code' (the trick of putting dollars inside a drum filled with stones).

We told him to bring N5 million in dollars and we would multiply it for him. We showed him our fake dollars and said it is money we have doubled." But Lateef claimed that he was usually outside when others were inside to monitor the area. He said: "We take drums and stuff them with different things then we place the fake dollars on it and say its treasures we have laid for people.

We then ask them to bring more dollars for us to help them double it too. We kept duping them like that." Lateef claimed he had received only N900,000 from the money collected from Isiaka while Alabi said he get N1.5 million.

Also, Ibrahim said he got N1.5 million, while Yetunde claimed she was given N50,000. However, Alasela claimed he did not receive any money from the N8 million outside the initial N180,000 he earlier got from Isiaka. However, the Zonal Public Relations Officer (ZPPRO), SP Dolapo Badmos, said the suspects collected N24 million from the victim. She added that the Assistant Inspector General of Police, AIG Adamu Ibrahim, had directed that the suspects be arraigned after completion of investigation.