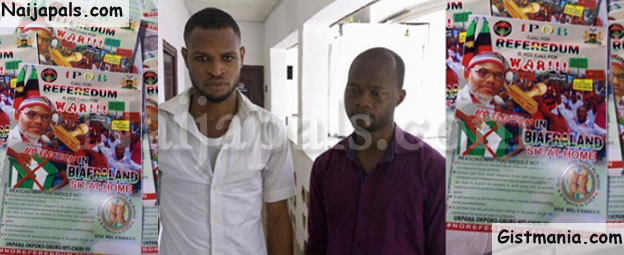 The Anambra State Police Command on Thursday arrested two publishers in Onitsha who were allegedly printing handbills for the proscribed Indigenous People of Biafra in respect of November 18 election boycott in Anambra State.

The Commissioner of Police in the state, Mr. Garba Umar, disclosed this at a press conference in his office at Amawbia, Anambra State.

Umar said his command would not tolerate any IPOB activity in the state in any guise.

He said,
"After a discreet procedure in collating intelligence on miscreants and members of the proscribed IPOB, the Onitsha area command raided a printing press where thousands of posters and handbills were being printed."
Some of the fliers read, 'Call for referendum is not call for war;' 'No election in Anambra State,' 'Biafrans declare sit at home,' 'Anyone who insists on participating in the Anambra election will be doing so at his or her own risk,' and so on.

IPOB had, in a press statement by its media and Publicity Secretary, declared sit-at-home on November 18th, the day for Anambra governorship election.



The Anambra CP warned that he would not spare any group or individual who try to disrupt the peace in the state, while calling on residents to ensure they report any attempt to cause a breach of the peace in their area.

Garba said the printers arrested would help the police in tracking down the IPOB members who gave them the job.

He said,
"We wish to encourage the people to ignore the leaflets and the fruitless effort expended in printing them, but to come out en masse and vote in the election as the plans of the group was to instill fear in everyone and cause apathy during the exercise.

"IPOB is proscribed and there won't be a hiding place for them in Anambra State.
"We won't tolerate any insignia of the group in this state. If your nickname is IPOB, please change it now; otherwise, we'll arrest and prosecute you."