They both spoke to the media shortly after her graduation. Read their interviews below…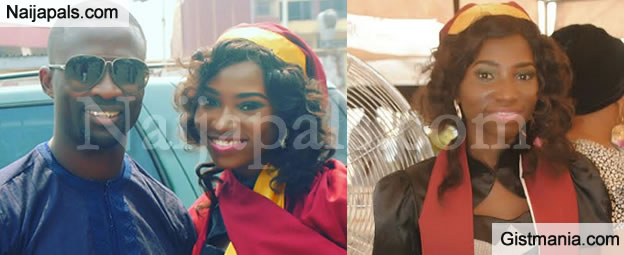 Malaika's Interview

How was the bringing up before her graduation?
I give big kudos to my parents, it is now i know what its takes to be a parent, its not easy. For my daughter to be graduating today, i thank Almighty Allah, though she still has younger ones, but am very happy, because many people started but not everyone was able to finish.

What the next step?
She will be furthering by doing her masters degree after her youth cops service, and getting a good job, and a life of her own. I will like to cease this opportunity to beg our government, though they are trying, but we need to do more, there are many graduates but just roaming about the streets, no job, no skills, so its very sad, after so much efforts and sacrifice they put in their study. Though i didn't have this opportunity while i was growing up, so i made up my mind to assist my children to achieve their aim, she's 22 now, as for me i dropped out of school due to lack of funds, but since when i became established as an entertainer, i futher more in my studies, which has really helped me, especially in my communication skills, which is very important.

Any regret that none of your children are not following your footstep ?
Not at all, i believe everybody has their own destiny, although, my grandfather was a musician, my father was a musician also, and so am i too, but nobody forced me to do what am doing right now, so for my children, its their choice, mine is just to support and guild them morally.
I will advise all youths who wish to be something in life to try get education, because its enlighting one and makes you more useful to yourself and to the entire community at large, i won't support anybody claiming to do music and ignoring education. To be a successful artiste, you have to be prayerful, loyal, faithful to God and also people around you.


MALAIKA'S DAUGHTER INTERVIEW
How do you fell graduating?
I give Thanks to God, and then to my parent, especially my dad, he has also been there for me everytime i need him, he cuddles me, advises me, and encourages me when am down, he also gears me up and also creates time for me despite his busy schedule.

What is the next step now?
Being a graduate is just the starting new phase of life of entirely, life is all about a growth process, we move from one stage to another, this is just the beginning for me, and by the special grace of God, i will be pursuing my masters degree and my Phd.. I graduated from the department of insurance, faculty of Business Administration.

How does your dad personality pressure you among your peers in school?
Well, its has not hinder me to get what i want to get, my dad has always warn me not to brag about myself, and always preach to me to be humble and friendly, which i heeded to and its really worked for me, many of my friends don't really know how influential my Dad was, and i really enjoyed that modesty.

Have you though to pursue his line as an entertainer?
I like entertainment, but it is just that my dream in life is not going to that direction at all, for now i want to still further more on my education, and work in a reputable company and later set up a venture for myself.

How social were you will in school?
I was not social, i only sometimes accompany my friend to departmental programme as a result of me being the only one left in the hostel, i don't like partying but only attend family gigs or a friends birthday occasionally.

My name is Halima.