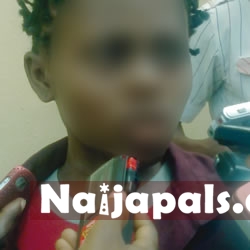 Life has always proved to be a paradox; when many millionaires are running from pillar to post asking God for even a child, many others term theirs unwanted and most often get rid of them by all means.

Such can be said to have been the case with a 19-year-old lady, Nsidibe Sunday Effiong, in Akwa Ibom State, who out of frustration strangled her 3-week-old baby and dumped her in a pit toilet.

Nsidibe, who hails from Ikot Abasi Idem Village in Ibesikpo Asutan Local Government Area, was arrested and paraded at the Ikot Akpan, Abia headquarters of the Akwa Ibom state police command recently for the crime which she admitted to during interrogation.

Narrating her story to Crime Features, Nsidibe who was paraded alongside other crime suspects by the police command lamented that she dropped out of school while she was in Junior Secondary School 3, (JSS3) when she was pregnant with her first baby.

She said her mother merely tolerated her. They faced untold hardship as the man who was responsible for her pregnancy had abandoned her and the baby and life became miserable for her when she got pregnant for another man less than one year after her first child.

According to her, what drove her into taking such a drastic action was when the young man who impregnated her the second time fled the community and it became extremely impossible for her to take care of the two babies all alone.

"I could not even pay for a room I rented and my mother was suffering so much to feed me and my first child. Before I even gave birth to the second one, the man who was responsible for the pregnancy, a barbing salon attendant, was nowhere to be found, and my mother threatened to throw me and the babies out of the house.

"When I gave birth to the second one, life became so difficult, that was why I decided that instead of punishing my mother, let me throw the baby away. So, I used towel to tie the baby's neck and put her in the toilet," she narrated.