The Minister of Power, Professor Barth Nnaji has accused the staff union of Power Holding Company of Nigeria (PHCN) of misinforming the workers as well as blackmailing the federal government and behaving like outlaws.

The Minister alleged that the union members are mishandling their senior management staff over the planned privatisation of the company and their severance allowances.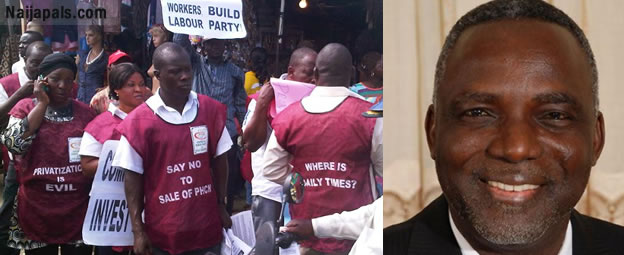 Briefing State House correspondents after the presentation of the performance of the ministry on the 2012 Budget, Prof. Nnaji said the union wants the government to exempt them from the nation's Pension laws so that they can illegally collect pensions.

The ministry's performance this year is put at 52.9 percent out of the N21.5 billion received.

Prof Nnaji explained that N78.4 billion was approved by the National Assembly for 2012.

Breaking down the budget expenditure so far, he stated that N75.46 billion was budgeted for capital projects, out of which N21.5 billion has been released. "The amount utilised is N11.4 billion, representing 52.9 percent" he said.

The Minister also enumerated some of the projects targeted by the ministry to include the 17 Small and Medium Power Projects, the transmission companies, how to ensure stability and reduce system failures, expansion of the distribution networks, resuscitation of the rural electrification agency.

Projecting into the plan for 2013, Prof Nnaji noted that there is a demanding need to complete over 156 projects that are ongoing.

He also made mention of the transition into private sector participation and the need to develop alternative sources of power.

Earlier, the special adviser to the president on Media and Publicity, Dr. Reuben Abati, restated the purpose of the briefing which is to ensure transparency and accountability.

The president's spokesman insisted that proper standards are set in the administration and that priorities in terms of service delivery are also met.

The budget presentation is in continuation of the president's monitoring scheme to ensure transparency and effective implementation of the budget in all ministries.

Face-off

Meanwhile, the Nigeria Labour Congress (NLC) has threatened to stop electricity supply nationwide if the federal government fails to meet the demands of the electricity workers.

It is the latest twist in the face-off between government and electricity workers in the country, who are demanding the withdrawal of security operatives from all installations of the PHCN, and the refund of 25 per cent of workers' salaries.

According to the electricity workers union, the 25 per cent has been deducted over the years as contributions to their pension scheme.
---