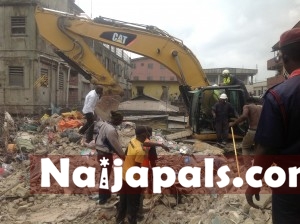 Following the collapse of a storey building in Ebute Metta area, this
past week, which killed at least eight persons, 20 new buildings in
Ebutte Metta, Yaba Local Coucil Development Area, LCDA, have now
been identified by Lagos State Government to be distressed and
marked for demolition.
Disclosing this yesterday, during a sensitisation and awareness
campaign by the agency in Ebutte Metta axis of the state, Managing
Director of Lagos State Building Control Agency, LASBCA, Mrs.
Abimbola Animashaun, said: "Since the commencement of the
enlightenment exercise today, we have identified about 20
buildings, apart from the one that we have identified before.
"Out of these, we have identified five that should be demolished
completely because they can cave in soon. We have issued several
appeal to the owners of these buildings, to conduct Integrity Test,
IT, on the buildings but they weren't yielding.
"Last week, we were in Lagos Island and this week is Lagos
Mainland, to tell the residents about the need to alert the
government whenever they discover any distressed or building
under construction that doesn't have any signboard to show that
the state government was aware of the construction. That means
the ongoing construction was done illegally."
She assured residents that the agency "will continue with its
enlightenment campaign. We will not stop the enlightenment
campaigns, it will be a continuous exercise.
---