«§» 30 January 2015
Did you know Goodluck Jonathan was nicknamed, 'Aguduma,' as primary school boy in Oguta, Imo State before the civil war?


For those who grew up in Oguta, in Imo State a few years before the Civil War, the name "Agu­duma" would bring back memo­ries. It was the qualification of a young boy, whose friends considered too handsome and therefore, nicknamed him "Aguduma," meaning "Handsome Goodluck."

That boy, today, has become a man. He's not an ordinary man, but one, who has risen from, perhaps, a nobody to the pinnacle of Nigeria's leadership. That boy is today the president of Nigeria. That boy is President Goodluck Jonathan.

Yes, President Jonathan once lived in Oguta. While there, before the war, he attended St. Paul's Anglican Church Primary School. He was nicknamed 'Aguduma" by his peers in primary school.

Madam Emilia Ajie, from Ogbaru area of Anambra State, who happened to be his land lady at that time at the Kalabari Beach, in Oguta 11, has now revealed quite a lot about him to Sun Newspaper.


Back then, Goodluck who lived with his uncle, popularly called Chief was always ill-treated. According to her, his uncle never bought him school books, sandals or other things he needed for school.
She further said that Jonathan was always the last, among the pupils who lived in the compound, to go to school daily because of house chores he must complete every morning.


Read her revealing Narration below:


Quote

"Goodluck is a very quite and respectful person, even in the face of hardship inflicted on him by his uncle, who was popularly called Chief and we always felt sorry for him because of the way his uncle was treating him. They were then living in our boys' quarters. His uncle's son usually did nothing. It was Goodluck, who did everything in the house, including cooking.
At the end of the civil war, in 1970, Goodluck's uncle, left with his wife, who was from Izombe, for their hometown, he had left behind his son and Goodluck because they were still in school and had promised to come back for them. But after his son finished his primary school, Chief sent for him and left Goodluck behind,"


She revealed how Jonathan once had an accident that frightened everybody. According to her, "one day, while Goodluck was still living in our compound, he had gone to pluck mango with other young boys, but fell from the tree and as I was returning from the market I heard children shouting that 'Aguduma' had fallen off the mango tree and I quickly rushed to scene and used my head-tie to bind his fractured right hand.My husband's brother, popularly known as Ajasco, who was returning from the farm, had carried him (Jonathan), with the assistance of other children and took him to a popular traditional bonesetter in the neigbourhood, called Nwanyiogu from Mgidi but married to Kalabari man.And while he was receiving treatment for his injured hand, we were always bringing him food because both his uncle and the son had gone back to their hometown. He left Oguta in 1972 and I have not set eyes on him again nor heard anything about him. I only got to know that Jonathan had become the president of Nigeria when I saw, in 2011 an Almanac bearing his photograph "Look at Goodluck!"

She stated that as she shouted, the man who was selling the almanac asked what happened. On telling him that she knew Jonathan, she said, the man told her that Goodluck was the president of Nigeria. Waxing philosophical, she said: "Whatever God has destined for anybody must come to past because nobody will ever have thought that Goodluck will, one day become the president of Nigeria. I thank God for his life because he really suffered under his uncle and most times I had asked him then if his parents were alive and he always said yes, but through out his stay in our compound, his parents never visited him." Also, talking about his experiences with Jonathan, Patrick Ajie, Madam Emilia's son, who is now a staff of the Imo State Fire Service, recalled how the president and his uncle and son lived in their boys' quarters at Kalabari Beach in Oguta 11.

He said that when President Jonathan arrived Oguta with his uncle, he started at Primary Four, at the St. Paul's Anglican Church Primary School, which was established by the Kalabari people in Oguta 11. He revealed that Jonathan finished his Primary Six in the school. Ajie corroborated his mother's story that even after Jonathan's uncle invited his son home, to join him and wife, President Jonathan continued to live with them.

On how Jonathan left Oguta, he stated that they did not see him for about two days, at that time, and therefore made inquiry from some Ijaw, who told them that he had gone to Egbema in search of one of his relatives. According to him, that was the last they heard of him until they heard about his emergence as president. "President Goodluck Jonathan had lived with his uncle and his son, who was younger, in my father's compound at Kalabari Beach in Oguta. We occupied the main building, while they lived in the 'Boys Quarters'. It was from there that he completed his primary school at St. Paul's Anglican Church Primary School and he had started at From Four. Of course, he was my senior in the same school. Even his uncle returned to their hometown, with his new wife from Izombe and left behind Goodluck and his son. He had promised to come for them when they were through with their primary school education. But later his uncle sent somebody to bring his son back to their home town and left Goodluck behind with us." Ajie said Jonathan later left between 1972 and 1973, first to Egbema, in search of one of relatives and finally to his village.

On whether he had ever met Jonathan, since he became president, Ajie said no, as nobody has allowed him into the presidential villa of the president's Otuoke home. Said he: "I have tried severally to see him. I had even gone to Bayelsa and Abuja, but my all efforts have proved abortive. I wanted to see him at least to rekindled old times because we had a very good relationship with him while he and his uncle were living in our compound."

Asked if he though Jonathan would recognize him in a crowd, as they parted ways as young people, he stated that he was not sure, but added that the president would never forget that he ever lived in the compound of the Ajies in Kalahari Beach, in Oguta.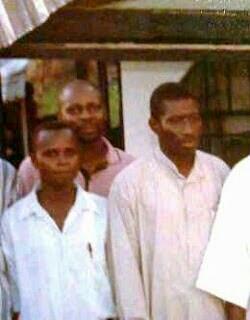 ---
Posted: at 30-01-2015 07:10 AM (8 years ago) | Hero