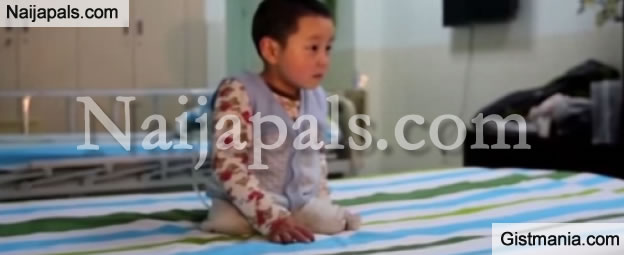 A four-year-old Chinese boy who had his two legs amputated after a tragic car accident two years ago, has not allowed his situation to weigh him down as he has become an Internet sensation with his dancing skills and infectious smiles.This Chinese boy, a double amputee, has not allowed his situation to weigh him down as he melts hearts with his dancing skills.
A video of the boy dancing around on his bed with a smile on his face using his hands for balance, has gone viral on YouTube.
The brave boy whose name has been given as Xiaofeng, melted the hearts of many people with his sweet smile and his dance moves despite his disabilities.
Xiaofeng's attitude to life has seen him becoming a sensation and has won for himself and his parents a special tour of a plane and a cockpit seat, courtesy of the Chinese Eastern Airline which has promised the family free tickets.
The brave little boy of China has been in and out of the hospital, and is said to be doing well.
During his recovery, he has learned to dance despite not having legs.
In the video, the disabled child who lives in the Hubei, was seen dancing around his bed with ease while using his hands for balance.
China Eastern Airlines promised free tickets to the boy and his family when he finishes his much needed medical treatments. It will be Xiaofeng's first experience flying on a plane.The video is here..

Posted: at 9-02-2015 12:13 PM (6 years ago) | Hero