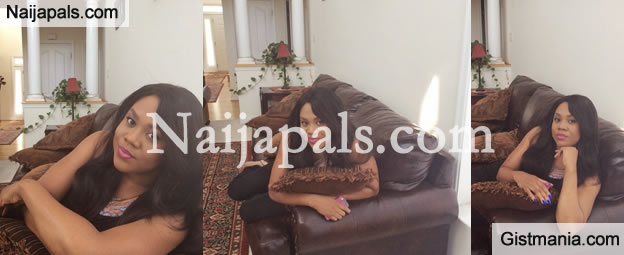 Nollywood actress, Stella Damasus has called on ladies to be careful when choosing a life partner. She complained about the increasing rate of marriage breakups in the society today.
She warned women to strive to keep their homes and advised them against feeling too relaxed in any relationship because it could be dangerous.
The actress further advised that before a lady should profess her love for a guy, she should first investigate the man's goals in life and weigh them against hers.
Stella noted that it is not a must for a lady to get married to the wealthiest man. According to her, a lady should date a guy who has something meaningful doing for himself.
In her words, "The one thing that I find that is the most reoccurring thing with women is, o he has potential. The truth is, we think that we just meet a man, we fall in love and we want to marry potential. We cannot marry potentials that is why we fall into the issues that we face everyday in marriages.
"Now one thing that I have learnt through experience to people around me is that when you meet a guy, you start to date, you start to fall in love even before you get to that point where he decides to pop the question way before then, your dating period should be a time where you get to know each other. Not what he likes or who his friends are but who he is as a man in terms of his goals in life. If his goals in life do not work with your own, there is absolutely nothing you can do about it."
"First of all, there are some questions that I know are very important to ask when it comes to you being with a guy. You want to know what his goals are, who he wants to be but that is not enough. You must make sure that he must be doing something to achieve those goals.
"Another point is, what does he do? If you want to marry a man, he must not be all wealthy or big or must be perfect because there is perfect person, but he must be doing something, he must have focus, something should wake him up in the morning and get him excited to want to do something.
"He doesn't need to have all the money in the world, he doesn't even need to have started the business he is doing, but at least see that he is putting plans together, he is meeting people, he is going out there. How does he address himself, how does he represent himself?
"A man without a brand is no man to marry o, I am being very serious. Everyman is a brand in his own right even a man that wants to be a shoe maker. Not people who sit in their house everyday with their huge dreams," she added.
She further disclosed that she once dated a man who wanted to be a celebrity but never stepped out of the house except at night where he goes to club and parties with the expectation of meeting of meeting people without branding himself and having what to sell to his potential helpers.
---
Posted: at 19-02-2015 11:13 AM (7 years ago) | Hero