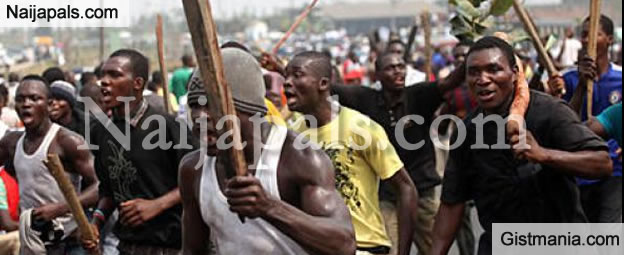 Some suspected thugs believed to be sympathisers of the People's Democratic Party (PDP), yesterday shot at All Progressives Congress (APC) members who were campaigning at Obalende in Lagos. Five people were injured - one of them critically - after the shooting.
An eyewitness said but for the intervention of soldiers from Dodan Barracks, the injured would have been more and that people would have been killed immediately. Four people - Babangida Bello shot in the leg; Gambo Idi shot close to the eye; Ibrahim Musa and Jubril Ishaku whose ankles were shattered - were last night being treated at the Island Maternity Hospital (IMH), Lagos. The fifth person, whose injury is critical, was referred to the Lagos University Teaching Hospital (LUTH) Idi Araba for further care. According to an eyewitness, the thugs chased after APC members who began their rally close to the State House en-route Obalende. But as the thugs advanced behind them, they scurried into Dodan Barracks and Ikoyi Cemetery for safety. Some of those shot were not even part of the rally. Recounting his ordeal, Bello, who resides at 32 Ajeniya Street, said: "I was sitting in front of the mosque when I saw the thugs. They were many and armed with guns and machetes. They approached me without saying a word and shot me in the chest and leg. They also shot some other people." Bello, who was writhing in pain, said some people also sustained minor injuries while running from the attackers. APC member, Alhaja Rikiya Jubril, said their rally was peaceful and orderly until they approached Obalende via Ajeniya and Suya Junction when news reached them that some thugs were advancing to the area to unleash terror. "Most of us scampered for our dear lives. I, along with some women, ran into the barracks while some of our members took solace in the cemetery. It was a frightening sight. This must stop before Saturday," she said. Mrs Jubril said the incident happened at about 6pm. "It was soldiers that saved us. I had to beg a woman for clothes in the middle of the stampede." She said the thugs shot at APC members who were at the Obalende Office. "Many of those who got injured were those sitting in the front of the mosque," she added.
Adamawa Youth Leader of APC in Lagos, Alhaji Zakari Mohammed, said the casualty would have been more but for two police men from MOPOL 2 who told them not to go to Obalende and the intervention of some soldiers from Dodan Barracks."Some PDP thugs came in buses and were removing banners. We asked them not to remove our candidates' banners. The next thing they did was to bring out their guns and machetes and started attacking people. Many people were injured," he said. He said: "Because the place is close to Dodan Barrack the soldiers came in. The soldiers were forced to return fire which forced them to disperse. He said the soldiers recovered a bus loaded with arms which they pushed into the barracks. But PDP Lagos State Chairman Tunji Shelle denied that the thugs were his party members.
---
Posted: at 23-03-2015 04:12 PM (7 years ago) | Hero