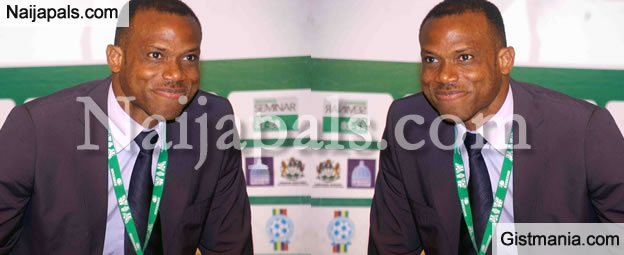 Nigeria on Wednesday appointed Sunday Oliseh as coach on a three-year contract and he has fired a warning he will only consider players who feature in the top leagues overseas and at home.

Oliseh's predecessor Stephen Keshi was known to call up players from the lower leagues overseas.
But the new Eagles supremo said this must change.

"If you are not playing in first division in anywhere in the world and in Nigeria, you cannot play for the Super Eagles henceforth," Oliseh warned at a media presentation in Abuja on Wednesday.
"However players coming from the under-aged teams are the only exception to this rule."
Oliseh said it is an honour to lead the Eagles now as a coach, but he alone cannot turn around the footballing fortunes of the country.
"It's a great honour to be a coach of this nation," he said.


"First of all, I am not coming as a Messiah. I am not coming as a man who can single handedly turn Nigeria to Germany.

"I am coming in to do my best and give if possible 150% all the time.

"The state we are now in Nigeria I think we are all not happy with. Gone are the days we have individual players who can single handedly win a match for you. But we have the potentials and that is our belief and the players must know that it's an honour to be invited to the national team."




About Oliseh:


Quote

Sunday Ogorchukwu Oliseh was born 14 September 1974 in Abavo, Delta State.

Oliseh played 54 international matches and scored two goals for Nigeria
He played at the Football World Cups of 1994 and 1998.

Oliseh also participated in the Olympic gold medal winning team of 1996.
He is mostly remembered for scoring the winning goal in the group stage match against Spain in the 1998 World Cup, as Nigeria prevailed 3–2. A throw-in deep in the Spanish half was headed clear by a defender – Oliseh ran and fired an explosive shot from 25 yards and took Spanish goalkeeper Andoni Zubizarreta completely by surprise

Despite captaining Nigeria during the 2002 African Cup of Nations, Oliseh was omitted from the World Cup squad later that year for disciplinary reasons
Oliseh retired from international football in June 2002.

In March 2004, Oliseh was sacked by Borussia Dortmund after punching team-mate Vahid Hashemian while on loan at VfL Bochum.
In January 2006, at the age of 31, Oliseh retired from professional football after playing a half season for Belgian top club K.R.C. Genk.




---