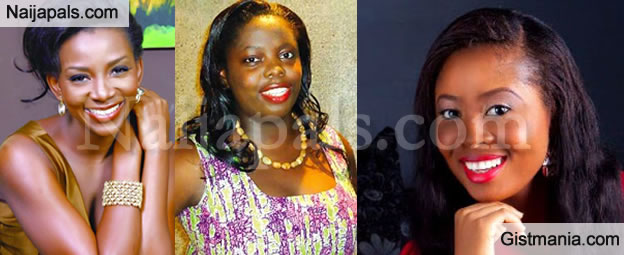 Omotara:
Omotara was a very pretty, sweet little girl during the day, but she had some really scary abiku friends that visited her every night. Farida Sanusi's acting was superb, especially during the deliverance session. I'm sure you can remember her growling.
The Reign of Abiku and The Pot Of Life (NTA Benin/1987) are the best Nifetep entries ever.
That was 30 years ago. This is what she looks like now (she is now an accountant and fitness instructor). She is of mixed parentage, with a Spanish mother


Uze (YOMI ADEYEMI-WILSON) in THIRD EYE
This was one of the best detective series on the NTA. Olu Jacobs was a police detective who had a very special little helper that assisted him in unraveling the most difficult cases. His very intelligent little daughter (Yomi Adeyemi-Wilson) would always provide a different perspective that would assist him in catching criminals (she often did this unknowingly). The only flaw in this show was that the NTA continued to portray Yomi Adeyemi-Wilson as a Home Science pupil even when she had moved on to QC (this was in the last 2 or 3 years of the show). You could tell that she was past primary school age. Her father is Engineer Yomi Adeyemi-Wilson who was the spokesman for Mobil Nigeria, first CEO of FEPA and former President of AFN. Third Eye was originally aired between c1989-c1994 and this is how Yomi Awosope (nee Adeyemi-Wilson) looks like now (if I remember correctly, she attended Home Science, Queens College and Unilag (law).


GENEVIEVE NNAJI in Ripples
Ripples (c1988-c1994) was the hottest soap on Nigerian tv in 1988, but it was soon overshadowed by Behind The Clouds (1989) and Checkmate (1991). I didn't watch many episodes of Ripples beyond 1988 (after that I only watched it when everybody else was talking about something that happened on the show), so I'm struggling to remember the storyline, but I'll give it my best shot.
The lead actor (in the beginning) was Sola Fosudo. He was a rich playboy who always had problems with his wife (I think Yetunde Idowu acted as his wife) who was a lawyer. They had a daughter and I think he also had a girlfriend. Anyway, he died in a car crash and the show then focused on the problems that his wife encountered after his death (especially from the evil Talab Abass (played by Alex Usifo Omiagbo).
That little daughter was Genevieve Nnaji and we all know what she looks like now.


Tosin Jegede
Tosin Jegede produced a string of hits in the mid-1980s (c1984-c1987). This is what she looked like then.
And this is what she looks like now.


Chibuzor Mercy Idowu
Chichi of Africa burst on the scene around 1988 to give Tosin Jegede a run for her money. She later served as personal assistant to Dele Momodu. This is what she looks like now


Benita Okojie
Benita Okojie had a string of hits in the mid and late 1990s starting with the breakout hit 'Osamudiame".
and this is what she looks like now. I can barely recognize her

---
Posted: at 8-12-2015 12:56 PM (7 years ago) | Hero