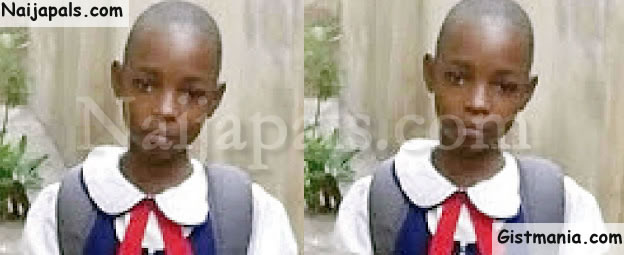 Like a scene out of a horror movie, a 10-year-old girl, Damilola Fasanya, who went missing on Saturday, January 9, 2016 in Ipaja area of Lagos, came home two days later to recount horrific tales of her short time in the hands of her kidnappers.

In fact, after her captors released her, she was so traumatised by what she saw that she could not gain her memory back for two days.

If Damilola's parents did not vouch for her truthfulness, many would have dismissed her story as mere product of an imaginative mind.

Damilola said that on Saturday, she was on her way back from the errand she ran for her father around their street at Ipaja when a vehicle double-crossed her.

She said she was about rebuking the strange men in the vehicle for blocking her path, when two of them jumped out and forced her into their car.

"There were three of them in the vehicle. I became dizzy and did not know where I was again when one of them hit me with a strange object inside their vehicle," Damilola said.
The girl said she faintly remembered that while they were on their way, a police patrol team stopped the men but the kidnappers sped off.

"The police started chasing the vehicle but the men escaped. The police van could not catch up with them. When we got to their boss, I noticed that it was a street.

There were many houses there but I still did not know where I was. There were other children and older people in the house too. Their boss then told them to bring me before him."
Damilola said she noticed that none of the men sounded like Yoruba. According to her, they were conversing in pidgin English.

According to the girl, a very strange thing happened when she was brought before the man.
"Immediately I got to his presence, he became angry. I noticed that blood started coming out of his body. He told his men, 'See blood all over my body now. You brought an abomination to me.'

"He then dipped his hand inside his clothe and brought out a gun. He shot one of his men – the man who had touched me with the object while we were in the car.

The one that was shot then fell down bleeding. There was blood everywhere. I did not know whether he died or not. The boss was angry. He said next time, they should not bring the wrong candidate to him. He then told the rest to pack him up and throw him away."

Damilola said the man then told his men to go and dump her somewhere too.

Later, she said they dropped her around Super Bus Stop along the Lagos-Abeokuta Expressway, where some sympathisers who saw her roaming the area took her to the Isokoko Police Division.

Saturday PUNCH learnt that she was too traumatised to remember anything when the police asked her where she was.

Her father, Mr. Femi Fasanya, said her daughter could not even tell the police who her parents are.

"The police kept her with them till she regained her memory back. Two days later, she told them that if they took her to Iyana Ipaja, she would know her way back home. When they took her there, her memory came back completely. The police then brought her to us.

I cannot stop thanking God. Her mother and I have not eaten since that Saturday she went missing.

Damilola told us that when the kidnappers asked for my phone number, she told them she did not know it even though she does. If not because of her wisdom, they probably would have kept her with them and asked us for ransom money.

We thank God that they did not strangle or shoot her before they dropped her somewhere. You cannot imagine what we have been through these past days. We are Christ Apostolic Church members. Our church in Lagos and Ondo mobilised for marathon prayer on our behalf while residents of our street also mobilised to help out."

The case of Damilola, who just finished her primary education and is about starting secondary school is another evidence that kidnap-for-ransom or kidnap for ritual purpose as the case may be, has continued to fester in a city where the police struggle with other numerous forms of crime.

The spokesperson for the Lagos State Police Command, Mrs. Dolapo Badmus, who confirmed the story, said the police are working on the girl's testimony to investigate the activities of the kidnappers.

---
For more scintillating and juicy stories, follow the official Naijapals accounts On Twitter - https://twitter.com/Naijapals and Facebook - www.facebook.com/naijapals
---