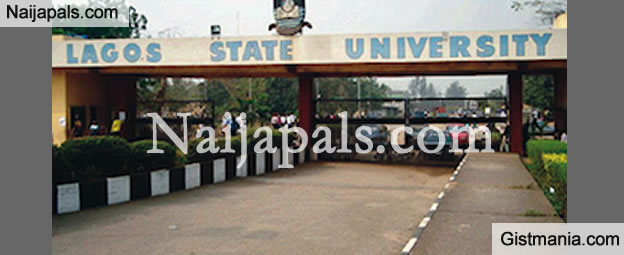 Tragedy struck the Lagos State University (LASU) on Friday as a 200 level female student from the Department of History and International Relations died after attending a send forth party.

A second male student is said to be on danger list at Lagos State University Teaching Hospital (LASUTH). Both he and the late female student were vomiting blood.
Senior management staff of LASU told our Correspondent that the female student started foaming in the mouth and was rushed to a hospital where she later died.

It was also gathered that after her death blood gushed out front her mouth and nose thus fueling the speculation that she might have been poisoned.

The corpse of the female LASU student has been deposited at LASUTH on Friday awaiting autopsy report.

It was learnt that family members of the dead student stormed LASU Friday to ask the university to produce their ward amidst wailing.
The family members are suspecting she was poisoned at the party based on the blood gushing out from her mouth and nose.

The organizers of the party which took place at a hotel (name withheld) it was gathered did not get approval from the university management nor was the Students Union aware of the event.

The university management Sunday Sun learnt have launched a full-scale investigation into the incident and have asked the organizers to produce names of lecturers who they claimed attended the party.

Some of the students who attended the party and sat on the same table told university officials that they eat and drank the same food and drink.

The acting Director, Centre for Information Press and Public Relations (CIPPR), Mr. Adekoya told our Correspondent that official statement would be made public investigations by security personnel.

His words: ''The incident (party) happened outside the university campus''.

Attention of LASU and LASUTH management is now focused on the male student on danger list as they battle to ensure he survives.


---
For more scintillating and juicy stories, follow the official Naijapals accounts On Twitter - https://twitter.com/Naijapals and Facebook - www.facebook.com/naijapals
---