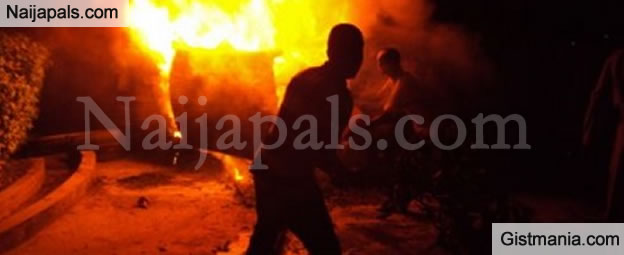 A number of protesting students of a Polytechnic in Osun state have destroyed some of the school's property by setting them on fire.
The angry students of the Southern Nigeria Institute of Innovate Technology, Ifewara, Osun State on Monday, February 22, set the private institution on fire on the grounds that some courses offered by the institution were allegedly not accredited.

Gistmania reports that, some of the students had started the violent act on Sunday evening, vandalizing the school's property, when they learnt that their courses were not accredited by the National Board for Technical Education.

Buildings in the school and vehicles were destroyed by the irate students. Some of the students revealed that, their colleagues whose courses were not accredited started the crisis.
According to one of them,

Quote

"We had our matriculation on Friday and some students said they were told that their courses had not been accredited. This led to a serious protest and they destroyed so many things before they set the school on fire. They chased us, female students, away and stole our laptops, phones and other things before they set the female hostel on fire. They burnt everywhere.
The protest started on Sunday evening and continued as early as 7am this morning. Peace was restored to the school only when policemen came today."



However, the Chairman Governing Council of the institution, Dr. Kola Christwealth, debunked the claim, blaming the students' action on ignorance, saying they lacked understanding of the programmes the school had for them.
Christwealth said he had not visited the school to assess the level of damage done by the rampaging students.


He said the school had encouraged the students to take professional examinations relevant to their programmes without charging them extra tuition but the students were completely ignorant of the benefits there.
---