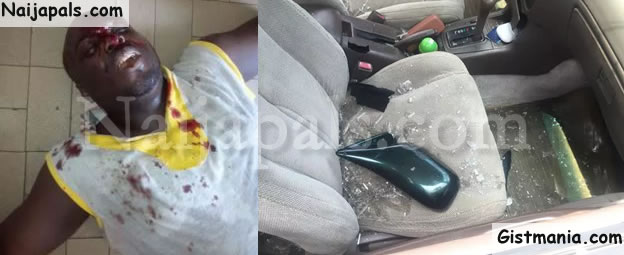 Some solders in Festac have shot at and brutalised a motorist for having an argument with a soldier over the right of way.

The soldiers numbering about four reportedly chased the motorist identified barrister Olajide Sipe, from 23 road Mobile Petrol station, shooting and at his vehicle in the process.

They thereafter dragged the helpless victim out of the car and beat him thoroughly with stones and sticks.



Our correspondent at the scene was told by relatives of the victim that but for the timely intervention of a retired commodore who stopped his car and restrained the soldiers from inflicting more injuries on the Jide, he could have lost his life in the attack.

After the commodore intervened, Jide was rushed by bystanders to Mercy Gate hospital along 72 Road where is receiving treatment.

Narrating his ordeal to our correspondent at the hospital, Jide said: I was coming from where I went to buy water barely ten minutes after talking with my wife on the phone, at 23 Road Mobil Petrol station, those buying fuel had blocked one lane and a soldier had stopped a bus on the other lane in the middle of the road.


"When I realsed that the soldier was blocking the road I said to him, Oga this thing you are doing is causing holdup, why don't you take the bus out of the road, so that we can move, and then he said to me who are you, what nonsense are you talking, and I said, no Oga I'm not trying to teach you what to do, I'm only telling you that if you do this thing it will be better for us using the road.

"The next thing he said was, You must be a useless man, then when I saw that he was already taking that tone I decided to move my car, then he started running after me, after I took the turning on 23 Road, another soldier, light in complexion came in front of my car, I stopped, then he began kicking my front wheel and smashed my windscreen.

"When I saw he was kicking my car, I moved, then the two Soldiers boarded a bike, then they later became four and began chasing me, as I got to 7th Avenue, I made a U-turn and they rammed their bike into my car, then I drove off, when the soldiers saw me driving off they shot at the car twice, the second bullet hit my tyre.



When I heard the sound of the gun I couldn't believe I was being shot at. After my tyre went flat, I came down and they ran to me and beat me blue black, after that people around brought me to the hospital.

The relatives of the victim said the commanding officer of the soldiers, Lieutenant Sadi, later came to the hospital to see the damage his men had caused to an innocent citizen, but offered no further succor.

---
For more scintillating and juicy stories, follow the official Naijapals accounts On Twitter - https://twitter.com/Naijapals and Facebook - www.facebook.com/naijapals
---