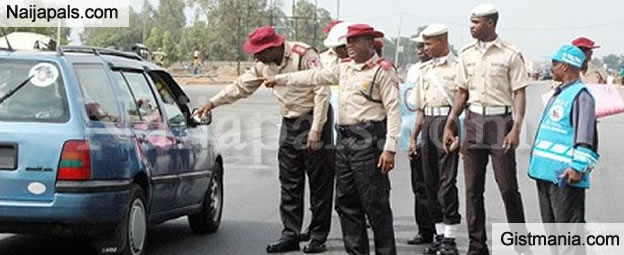 Some officials of the Federal Road Safety Corps were given the shock of their lives after they were attacked and severely beaten by motorists and other persons on the road.
Officials of the Ibafo Police division, Ogun state Command, have arrested some residents in Arepo, Obafemi Owode Local Government Area of the state for allegedly attacking four officials of the Federal Road Safety Corps, FRSC.

The assaulted FRSC officers belonged to a team of Special Intervention Patrol, operating at a section of the Lagos-Ibadan expressway. The FRSC officers were said to have flagged down a motorist who ignored them.

According to the reporters, the motorist was towing a vehicle whose rim was scratching the road and when he approached the Arepo U-turn, he slowed down and the head of the patrol team asked one of the FRSC men to enter the vehicle and force him to stop.

But the motorist drove away with the officer. The action, however, alarmed the other members of the team, who then followed him. A source said on the course of driving to Arepo, the FRSC officer in the vehicle with him took pictures of the vehicle with his phone.
The driver, who reportedly identified himself as a legionnaire, demanded the phone from the officer who refused, afterwards, the driver allegedly used a horsewhip to flog the officer.
The driver later mobilized men who swooped on the other officers and it took the intervention of some military men to put a stop to the battering of the road safety wardens.

The affected FRSC officers reported the assault to the police, which led to the arrests. When contacted, the state Police Public Relations Officer, PPRO, DSP Muyiwa Adejobi, said two of the suspects had been arrested and would be charged to court soon.
---