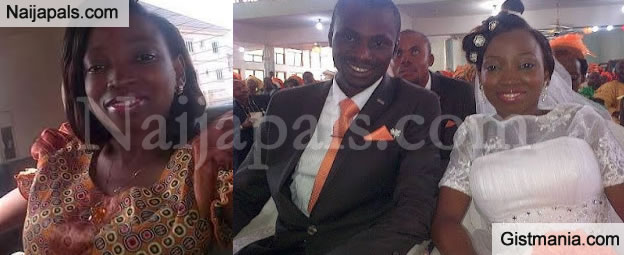 Kemi Alaje Merayebu, first daughter of Rev Dr Vincent Alaje, the General Treasurer of Assemblies Of God Nigeria, was killed by gunmen in Enugu on December 13th.


According to reports, the men numbering about 10 and armed with gun, axe and Machete stormed the residence of late Mrs Kemi where she lived with her husband Mr Isaac Merayebu, demanding for the offering money realized during their Church annual Harvest Thanksgiving, which held on the 11th of December 2016, at the church premise located at No 6 Nofia Street by Agric Bank Bus Stop, Enugu.


The couple told the gunmen that the Offering money was not with them, a response which angered the gunmen. And they began to hack the bodies of the couple. Mr Merayebu managed to escape with injuries to call for help. Help came too late as Kemi passed away the following morning. Her husband is said to be still unconscious.




Late Mrs Kemi Alaje Merayebu was before her gruesome death, a staff of the General Council of Assemblies Of God Church. The police are currently investigating the matter.

---