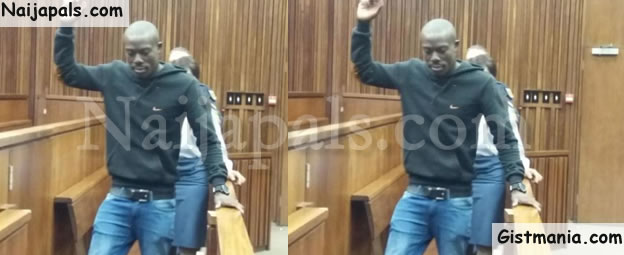 Nigerian national, Ugochukwu Eke was on Monday, March 13th, sentenced to 20 years imprisonment by the Johannesburg High Court for drugging and sexually exploiting an underage girl, living off the earnings of sexual exploitation and being an accomplice to her rape and trafficking
Eke committed the crimes in 2015.

Judge Majake Mabesele read out the charges that Eke was facing which included sexual exploitation of a child, living off the earnings of sexual exploitation, being an accomplice to rape and contravening the Prevention and Combating of Trafficking in Persons Act.
"What happened to her was cruel, inhumane and degrading," said Judge Mabesele.
The judge noted that Eke was 28 when he committed the crimes and had been living in South Africa for eight years. The victim was only 15 when she ran away from her Rosettenville home, south of Johannesburg and was taken advantage of by Eke.

Before he pronounced the sentence Judge Mabesele said he found it disturbing that Eke confidently told the court that he was making a living out of drugs and prostitution thus he deserved a severe punishment. As Eke was led down to the cells, the accused's supporters present in the public gallery waved at him.

During the trial, the victim who is now 17 told the court that Eke provided her with drugs whenever he wanted her to engage in sex with the men who had paid him for her services.

She said the drugs Eke forced her to take gave her energy. She said was able to entertain as many as six men a night. Afterwards the accused would pocket most of the money and only give her R50 for food. Delivering the sentence the judge said:
"It is beyond debate that she was exploited and forced to prostitute"
The mother urged teen girls to choose their friends wisely and said she felt her daughter was not safe because the girl who got her involved with Eke knew where they stayed.

National Prosecution Authority (NPA) spokeswoman Phindi Mjonondwane said that this case was the first case to be finalised under the new human trafficking act that came to pass in August 2015.
"It can never be business as usual when young kids are used for sexual exploitation. As the state, we had to come up with formal approach against such crimes," said Mjonondwane.
"Within this new act the state is now is a position to efficiently deal with serious crimes."
She encouraged Rosettenville residents to not lose hope the South African law, and to stand up and work with the police to fight crime in their community.

"We believe that crime is crime whether committed by South African or foreign national. A sentence like this will help to deter other criminals from committing similar crimes like this"
---