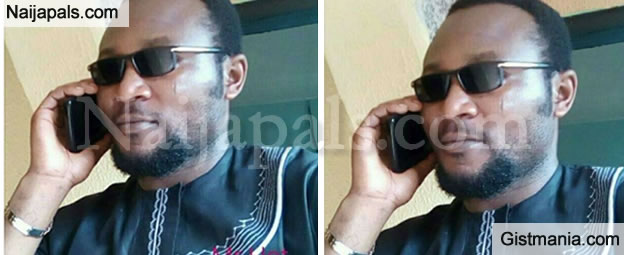 One Apeh Peterhot, a blogger and an acclaimed journalist is said to be on the run after he defrauded a popular political commentator and philanthropist, Philip Agbese to the tune of N2.2m.
It was gathered that the case is currently before the Nyanya Police Station and one Queen Anne Johnson who is heavily pregnant is being held by the police as an alleged accomplice in the crime. However, preliminary investigation has revealed that Apeh Peterhot who many have termed a Facebook activist with the name Apeh Peterhot Ejelikwu-Ikwuta is solely responsible for the crime.
Trouble started when Apeh Peterhot allegedly created a fake account in the name of Mrs Daniel( Anne Ochoga) claiming to be a car dealer. As a philanthropist, Mr Agbese thought it was wise to patronize a fellow 'sister' not knowing that the face behind the account was actually Mr Apeh whom he had helped in the past.
When Agbese requested for an account number into which the sum of N1.8m could be sent to, Peterhot allegedly contacted Mrs Johnson whose name is also Anne and demanded for her account for the transaction. According to Mrs Johnson, '' He told me he had BVN problem, and that the transaction was between him and a brother.'' She narrated that immediately she received the first sum of N1.8m, Peterhot asked that the money be transferred to his Access bank account, and that he had resolved his BVN problems. She said, '' And when I got the second part of the payment, I transferred to Peterhot. I was shocked because Peter had told me it was only a Hundred Thousand Naira that would be sent.''
Peterhot allegedly posted an obituary on Facebook,announcing the death of the non-existing Anne Ochoga, apparently to close the deal and to make Mr Agbese to believe that the person he transacted business with had died. She, however, denied that she was dead as posted on Facebook, denouncing the said Facebook account that was allegedly opened in her name. Shortly after then, Anne Johnson whose account was used for the said transaction got information that she was being trailed for allegedly duping Philip Agbese to the tune of N2.2. She then turned herself in at the police station, to clear her name. She was detained after she gave her statement that she was not in the know of the actual transaction, only that a Facebook friend requested for her account number.
According a popular journalist and blogger, Price Yemi Itodo, Mrs Anne was detained for several days and all entreaties made to reach the main culprit in the crime, Apeh Peterhot failed. Giving a summary account of the incident, Itodo posted on Facebook,
''1. The woman only obliged to give her account number to Peter after wide consultation. I read through their chats and saw the distance between the day he requested for the account number and the day it was given.
''2. Peter told the woman it was only 100k his friend would send to the account but she got alert of N1.8m and quickly called Peter, who said she should not panic, that the money was meant for his elder brother.
''3. The woman or her husband didn't demand for any "token" as erroneously stated here. Peter willingly asked the woman to take 20k out of it, that his elder brother said she should take it.
''4. The woman thought the transaction was over, until after 3 weeks she saw another alert of 400k and was shocked. She called Peter and he said it was his brother's friend who sent it again. Peter also said his brother said the woman shud transfer 390k and keep 10k.
''5. As soon as Peter sent his account details, the woman asked why he lied earlier that his BVN was faulty? Peter gave excuses that he had resolved it.
A popular blogger and Publisher of IPM news, Akioyamen Josephine, also posted her reaction on Facebook, calling on the police to arrest the main culprit and set the innocent pregnant woman,
Mrs Anne, free. Josephine wrote,

Quote

''I woke up to the sad reality that our friends and relatives would use the opportunity and circumstances of our charity and kindness to hurt our feelings and discourage us from extending further such good gestures to others..
''Reliable information available to me from my investigations from available primary sources indicate that Queen Ann Ochoga has been operating as a Facebook account which claimed her heritage originated from the Idoma part of Benue State. ''The fictitious pseudo at a point put up a veil of a car dealership business… While transacting with my friend Agbese Philip from the United Kingdom.
''Huge sums of money were paid into her account for the auto transaction deal and of course she failed to deliver.. On hearing of the arrival of Mr Agbese Philip to Nigeria he quickly, announced the sudden death of the Queen Anne Ochoga along side with his fiance… All this lies were to make his victims forget about whatever ongoing transactions with the so called late Queen Anne Ochoga who never actually existed except in the true form of Apeh Peterhot Ejelikwu.
''Mr Agbese Philip in his usual characteristics manner, had wanted to encourage his fellow Nigerian more so that the identity was purportedly originating from his idoma clan..Same way he does to all who come his way.. Unknown to him, it was a planned calculated attempt by APEH PETERHOT EJELIKWU WHO IS ACTUALLY a beneficiary of Philips generosity in time past..
''I am surprised that after preliminary investigations have revealed very glaring evidences as to the true destination of the funds, Apeh peterhot Ejelikwu is still bringing up issues of political smear campaign against his person..claiming Government of Samuel Ortom is fighting him.This is obviously to gather public sympathy which is unfortunately unavailable in the circumstances..
''I challenge Apeh peterhot Ejelikwu AKA Queen Ann Ochoga to rise from his operational hideout to meet with his victim or his representatives at any police station in Nigeria so they can all bring to the fore proofs to justified allegations of fraud and counter allegations of smear campaign.''The only and most acceptable thing to do at the moment is for all to appear before security agents for proof…
''I believe peterhot Ejelikwu AKA Queen Ann Ochoga would gladly do so and also utilise the opportunity to ask for police protection since he suspect a political campaign of calumny and threat to life…


But the prime suspect, Peterhot who has been on the run has continued to post comments on his Facebook wall, threatening to come up with his own angle of the story which he never did. He has continued to like all comments posted on the matter, without stating his own angle. When DAILY POST contacted him via his Facebook inbox, after several calls put across to him failed, he accused the Editor who reached him directly of trying to aggravated the matter. He said, '' I wish you heard from me before you aggravate this matter. Anyway, thank you. I hope you know me well now.''
When he was asked to give his own angle, he never did as chats went quiet. However, Peterhot posted on his Facebook timeline, accusing the Benue State government of plotting to tarnish his image. He said the story was fabricated to soil his name due to a post he initiated on the Benue Wheelbarrow saga.
But checks by us shows that his comment on the Wheelbarrow saga did not elicit much response from even his Facebook friends, hence his comments may have been insignificant.
The victim, Philip Agbese, while reacting in a Facebook post wrote: ''Help me laugh in Benin language! Peterhot just had a discussion with me and alleged that the late Queen Ann Ochoga also had a conversation with him to receive money from Ann Johnson. His explanation has become a comedy.
''This is what he would have done yesterday before we took the matter to the Police. He rebuffed me that he doesn't know Ann Ochoga or Ann Johnson anywhere and that I should not blackmail him in any scoop. His short memory has been restored to now remember everything.
''It's worrisome and pathetic that he had to be a man after the middleman was arrested and he now knows the late Queen Ann Ochoga who is now dead. Ghost transaction indeed pose of this investigation, it has only just but began!!!!'' Meanwhile, the police is now considering the option of transferring the case to SAS office in Abuja, Where the heavily pregnant Anne would be detained. The woman eventually broke down on Monday evening after she was told about the option. She is currently in an undisclosed hospital for medical attention.