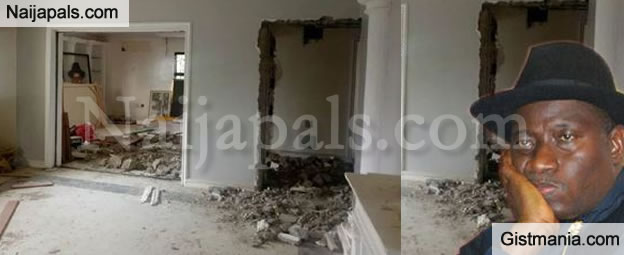 They even sold the doors...lol


Quote

"The house, which the former President bought from CITEC estate developers in 2004, was totally stripped bare by the thieves who stole every movable item in the house, including furniture sets, beds, electronics, toilet and electrical fittings, as well as all internal doors and frames.
"However, contrary to exaggerated reports in some media, only six television sets, three refrigerators and one gas cooker were stolen. Being that the house is a modest, a 4-bedroom duplex, it couldn't have been fitted with "36 Plasma television sets and about 25 refrigerators"

as falsely reported by some media outfits.

A trader at Panteka market, who confessed to being close to one of the fleeing buyers of the stolen items, according to sources, said the police officers first brought some items to the market for sale in early 2016. "It all started sometimes around March 2016 when a mobile police sergeant came to Tipper Garage market and brought some items for sale.


Quote

"He approached one of the wholesalers to buy them, but the trader said he does not buy items from an unconfirmed owner. "The officer who identified himself as Sergeant Musa told the trader that he was one of the security men guarding Mr. Jonathan's private residence at Gwarimpa. He took the trader to follow him to confirm that he was not a thief who had come to sell off stolen properties in the market.
''The trader followed him to the residence where he met two other policemen, an Inspector and a Sergeant. They convinced him that the items were part of gifts to them,''

the source had said.


Sources said it was noticed subsequently that the stream of transaction had no end, as Sergeant Musa continued to invite the trader to the residence to pick up fresh items.
The source said: "At a point, the trader became scared when he suspected foul play and told Sergeant Musa that he was no longer interested in the transaction. However, the officer later got another customer, a wholesaler in the market, who would eventually buy almost 80 per cent of all the properties removed from President Jonathan's residence.


Jonathan had lived in the house for about a year when he was vice president. His mother was also said to have lived in the house after the former President moved to Aso Rock Villa upon becoming Acting President in 2010. Although Mr Ikechukwu Eze confirmed the story on Monday, he did not, however state what was stolen in the house.


Problem with this article? Please contact us
---