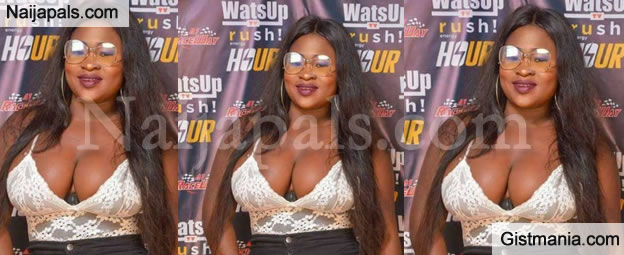 A busty Ghanaian singer who is known for showing off her bosom has revealed that she is in love with her endowments and that's why she's always proud to show them off. Ghanaian singer, Sister Afia has said she's very proud of her huge Bosom s even as people have criticized her for using it as her selling point. Afia who is fond of wearing revealing clothes to flaunt her bosom has however responded saying that she wants to erase the perception that her cleavage is her selling point.

The Jeje singer believes her talent is enough to keep her relevant whether she covers up or not.

Quote

"I just don't get why people seem to have issues with what I wear and my bosom . People keep asking me if apart from my bosom , I have nothing else to show. For the records, my bosom are not my selling point, not at all. I am very talented.
"I don't get up in the morning and tell myself, today, I want to show my bosom , no, it depends on how I feel. My bosom , my talent and everything form part of the package,'

she said in an interview

Afia added:

Quote

"I am very proud of my Bosom s. They are beautiful and nice. Most girls of today are all over looking for ways to enhance their bust artificially and if I am blessed with them naturally, why should I be ashamed of them. Honestly, I am blessed I must say and I won't trade them for anything.
"Infact, I cannot do anything about the size of my bosom and how they stand out in clothes. I just have to love them and that is what I am doing. I don't really care what anyone else thinks. So those who have been talking about them, I cannot help you.
"I remember people had issues with my bikini pictures I released some weeks ago but the question is, what were they expecting me to wear at the beach. If they are not confident with what they have been endowed with by God, I am and I want to flaunt it,"

she said.

Sister Afia who is in the studio currently is working on releasing songs with some of the makers and shakers of the music industry in Ghana and beyond.


Quote

"I want to come out with a number of songs by the end of the year and I hope to feature some of the big names who have paid their dues in West Africa like Sarkodie, Davido and Patoranking,"

the Borkor artiste said.

Talking about working with AMG rapper, Medikal on her lastest song Borkor, she said, "Working with him was interesting and enjoyable. He was spot on with his rap deliveries and knew the right words to use.


Quote

"The video shoot was crazy, I wished the day never ended. He had the right attitude and his composure throughout the shoot was amazing. Medikal is a professional, a gentleman and I would not mind working with him again."


Born to Joe Essoun and Madam Perpetual Duncan Williams, Sista Afia said her favourite Ghanaian musicians are E.L, Efya and Kaakie all of whom she plans to do collaborations with some day. Songs she has to her credit include Kro Kro No, Borkor, Jeje, Are You Ready, Yi Wani and Due.
---