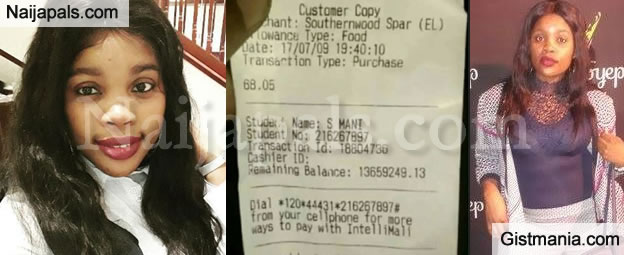 An undergraduate has shocked many people by going on a spending spree after over N300 million was mistakenly paid into her account.

A student who received a staggering £850,000 (N392million) instead of her usual £85 monthly university food grant is in hot water after going on a massive 73 day spending spree with her pals.

According to Sun UK, the Accountancy student identified as Sibongile Mani, 27, who was on benefits to allow her to study was said to have undergone a Cinderella like transformation overnight after the cash blunder.

It was gathered that student leader Sibongile usually receives £85 each month in her bank account in food and book allowances at Walter Sisulu University in Mthatha, Eastern Cape, South Africa before the sad error saw her account blow to a staggering N392 million.

But people started raising eyebrows when her neat corn-row hairstyle was replaced with £180-a-time Peruvian weaves and she began wearing designer outfits and bought a brand new i-phone 7.


She began flashing the cash kitting out her closest friends with new outfits and drinking £50-a-time bottles of whisky and jetting herself and her pals round the country to wild parties.

Suspicions grew when a till receipt from a local SPAR shop was leaked showing that she had £810,000 in her account and her wild spending became more lavish and talked about.

She was finally outed by Samkelo Mqhayi, deputy branch secretary of the South African Students Congress (SASCO), who reported her to the National Students' Financial Aids Scheme.

He told Herald Live: "She threw surprise birthday parties for her friends and showered them with expensive gifts and flew them to events where she bought the best seats.

"When the SPAR receipt was leaked showing a balance of R13.6-million (£810,000) in her account I called NSFAS and they checked their records and confirmed that the initial amount was R14-million (£850,000)".

By the time they reigned her in after her two-and-a-half-month spending spree they discovered she had been blowing £666 a day which is a staggering amount in South Africa.
The total missing from the account is £50,000. A fellow student said: "She went from a hard up, humdrum run-of-the-mill student to one who was leading a lavish lifestyle and seemed to have no bottom to her purse and lived the high life.

"She became very glamorous in beautiful dresses with all the accessories and we thought she must have won the Lottery. She must have thought she had won it too when she got that cash!".
In a Facebook post Miss Mani claimed she had reported the error to the authorities.

She said: "Today my personal life has become a social media scandal. I have been named and shamed in public. Today, I am a bad person, a person who stole the money of students.

"With that being said, and being named a thief, but as we all know in every story there is truth and there are lies with the very same story".

She said she was not denying anything but would tell her side later but she has fled the campus and gone into hiding and shut down her Facebook page.
Problem with this article? Please contact us
---