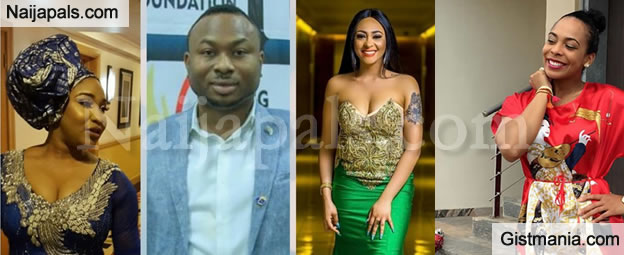 This is a story from a Nollywood script and the only way you can Understand this is if you become a script translator A.k.A Actor or turn this into a reality blah blah.
I am just gonna tell the story and leave out names or clues this time....
All actors in this script have been renamed to avoid decoding quickly.Oga Dollars is so named because he spends only Dollars and selten gifts out naira.
Madam Teetee is rumoured to be in a very coded relationship with oga Dollars .
*Rolls eyes and inserts dramatic music*
Yes Oga Dollars has been snatched from the one who snatched him from the Controversial one. LOL
That is probably why all social media handles are busy shooting out coded memes and words.
*phone rings*
Ehen what was I saying.


Quote

''He was in Abuja sometime around June and the script translator and her mum and sister were on their Vacation that oga dollar sponsored,when he wouldn't return to Lagos after she returned, she hurried down to Abuja because she felt something was wrong due to his sudden long stay, she couldn't complain because what has been done to her now she did it to someone else.
Don't call it karma yet because they publicly denied each other..How can you lay claim to or be disgraced by what you denied?...Don't ask me!
if you remember in June (guess the year) someone shared a video of oga dollar where he was forming some snobbish attitude towards her when they supposedly bumped into each other in a Restaurant...remember?story...that was a date!
This is not acting or a reality show but Oga dollar is in love with Madam Teetee but the coding is so coded that Madam script translator knows but is confused and cannot shout after the denials.
Madam teetee is also now very strong on her social media handle because oga dollar is reading and encouraging her to be strong and not let haters like you get to her...
Both Madam script translator and Madam teetee are beautiful so its not about looks...
Fame wise both are on the same level and their days jobs are ...........*searching for word*
Well Oga dollars,Madam teetee and Madam script translator are all publicly single so let the strongest win the heart of oga dollars who is single - for now
Note that Madam scritp translator loves all the bad press she has been getting because it is her claim to fame....so according to the script,she no mind.
The controversial one?Shes still there preaching some kind of coded messages,dont know who she is talking to but the person she is talking to might be talking to someone else now as there is now serious competition..hehehehehehhe.
Anyway enough of this gist..
The reason for this story is that ''

If you enter soup pot thief meat when no be your own,as you are eating it in one corner,if you look well you will see that your shadow dey steal bites as you dey eat...hahahahahahhaha
what did i just say?
This is a Nollywood script and has no resemblance to anyone in Nigeria or the rest of the world.
Today is Friday and I just read through again,I didnt mention any names or character.
Invest your time to pray and stop trying to decode this gist..God bless you!

Published at:
03:57 PM, 15/09/2017 (1 year ago)
Author:

onuigbo felicia
Problem with this article? Please email reporter[at]naijapals[dot]com or visit our contact page
---