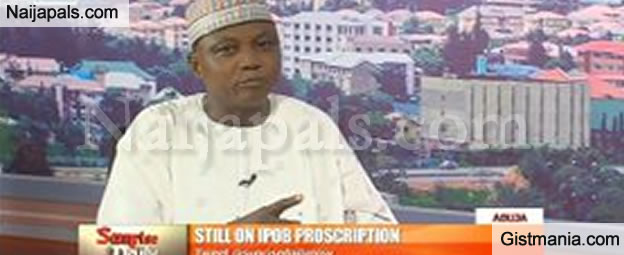 While speaking in an exclusive interview as a guest on Channels TV programme this Thursday morning, the Senior Special Assistant to President Muhamamdu Buhari on Media and Publicity, Garba Shehu, said that the Nnamdi Kanu-led IPOB is a terrorist organization, adding that Fulani herdsmen are just a criminal gang.
The presidential spokesperson who reacted to the recent proscription of IPOB by the presidency, said further that the IPOB is an organization that has no regard for the constitution.
Reacting to questions on why the Fulani herdsmen have not been tagged a terrorist organization despite the fact that they have killed hundreds of people and destroyed properties in some parts of the country, Garba said;


Quote

"This is because there is a difference between a criminal gang and terrorist activities. Yes the Fulani herdsmen are a criminal gang and are being dealt with in accordance to the laws of the country but IPOB like Boko Haram has a territory they have carved onto themselves as a sovereign state and have shown willingness to invade neighbouring states. "They have raised concerns in neighbouring Kogi, Benue and also indicated interest in taking over Bayelsa and Rivers That is exactly what Boko Haram has done with the Flags and taxation systems. This certainly are not acceptable to the laws of the country,"

he said.
Garba said information reached the government that IPOB members had already started printing passports as well as their own currency which is against the laws of the country.




Watch the full interview!