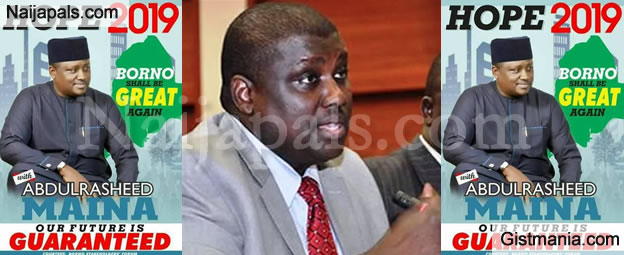 The political campaign posters of the "Wanted" ex-Chairman of Presidential Task Force on Pensions reforms, Abdulrasheed Maina, for the office of the governor of Borno State in 2019, have emerged in some parts of Abuja, the federal capital territory and Kaduna metropolis.
While Maina remains underground apparently to avoid being arrested for prosecution by the Economic and Financial Crimes Commission (EFCC), he is tactically working to actualise his ambition of ruling Borno State when the Independent National Electoral Commission gives the go-ahead for the electioneering campaigns for the 2019 polls.
One of the posters with Maina's picture in a black caftan and black cap to match, posted at Apo Overhead Bridge adjourning the Apo Legislative Quarters, has dominant red and green colours, indicating that he is likely to pitch his tent with one of the parties with those colours. The posters, which has the imprint of Borno Stakeholders' Forum, has the caption: Hope 2019 and a promise: "Borno Shall be great Again and with Abdulrasheed Maina, Our Future is Guaranteed".
Similar posters were pasted in some areas of Kaduna, where Maina's family members reside and work. It was also in Kaduna, where the family members yesterday carpeted unnamed cabal in the Buhari administration, which they claimed, had invited Maina to come out of hiding and work with the government of Change only to be betrayed and persecuted.
Although President Muhammadu Buhari's order that Maina be flushed out of the federal Civil Service for an alleged large scale scam and abscondment from duty post, his family has risen in strong defence of the suspect, describing him as a messiah, who was persuaded by Buhari's men to come back from exile to help in sanitising the pension system.
---
Published at:
10:56 AM, 27/10/2017 (1 year ago)
Author:

Giwa bayo
Problem with this article? Please email reporter[at]naijapals[dot]com or visit our contact page
---