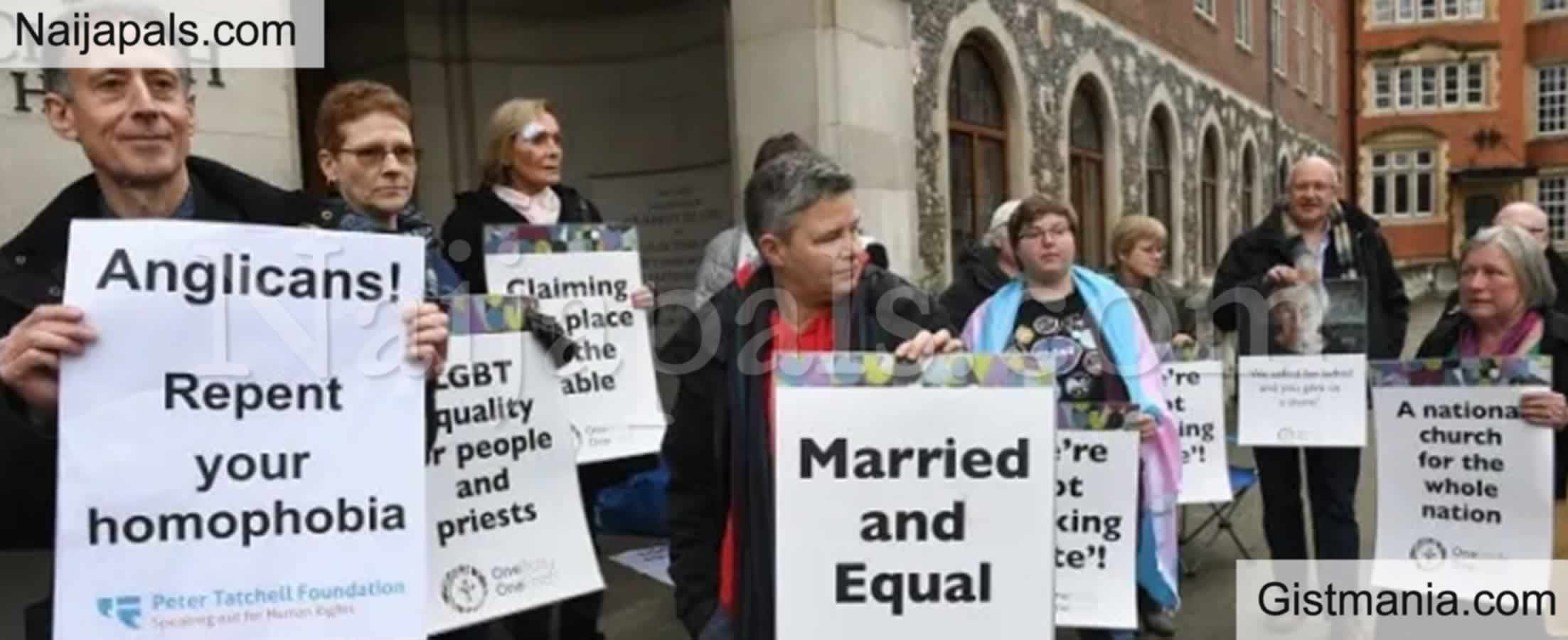 A peaceful protest was on Wednesday staged by the members of the Anglican Diocese on the Lake in the Oguta Local Government Area of Imo State over a crisis rocking the diocese.

the Bishop of the diocese, Rt. Rev. C.B.N. Otti, had dragged three senior priests of the church, Ven. Canon Eugene Onwubie, Rev. Eugene Iheanacho and Ven. Caleb Udom, to court for refusing to vacate the church premises where they resided with their families.

It was gathered that the priests who were officially in charge of St. Mathias Anglican Church, Nkwesi and Emmanuel Church, Izombe, were sued for refusing to submit their ordination certificates to the bishop, a situation that made him to issue the priests a one week notice to vacate their official residences.

The members carried placards with inscriptions such as, 'Bishop Otti, stop this intimidation now or face our anger', 'Bishop Otti, is Diocese on the Lake your private business?, 'Bishop Otti, pay your priests, 'Oguta youths say no to your intimidation, harassment and humiliation', among others.

Speaking while briefing journalists, spokesman for the protesters, Edwin Onyemaechi, who is from St. Mathias Anglican Church, Nkwesi, described the bishop's action against the affected priests as unfortunate, adding that the matter was minor and could have been settled in-house instead of going to court.

Another protester, said the crux of the matter was that the bishop accused the priests of withholding the money they were supposed to remit to the diocese from their parishes, an action the bishop viewed as gross misconduct and disobedience.

When the priests didn't bulge, he said the bishop demanded that they return their ordination certificates to him and cease to be priests of the Anglican Church.

The priests, who were allegedly owed salaries by the bishop, reportedly ignored the order. The disobedience, it was learnt, led to the bishop issuing notices to quit to the priests to vacate the premises of the churches they presided over.

Reacting individually, the three priests said that they were registered as ordained priests at the Owerri diocese and that surrendering their certificates and licences would mean that they had been sacked by the church.

They expressed worry over the continued silence of the Anglican Primate, Archbishop Nicholas Okoh, on the matter. They accused the bishop of taking the law into his own hands by not waiting for the intervention of the Anglican Primate.

The bishop, who spoke with a correspondent on the telephone through Mr. Chidi Emeagi, said the three priests chose to disobey his instruction that all the diocesan priests who were ordained outside the diocese should submit their ordination certificates for new ones.

He said he had to approach the court to lawfully compel the "disobedient" priests to obey his instruction, which he said was in tandem with the laws of the Anglican Church.
---