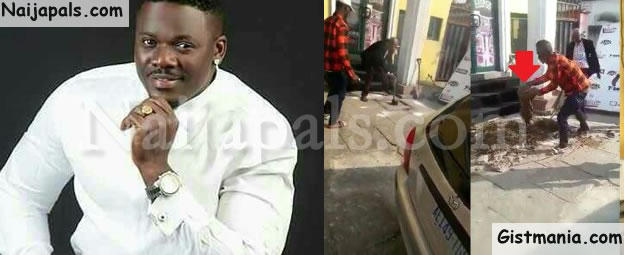 A Nigerian man identified Victor Ufot shared a news about how a Calabar Night Club Owner Amber Named Akeem buried 2 children & piglets to attract customers.

Here's what he wrote;

There was tension, last week in Calabar, Cross Rivers State, following the discovery of three corpse reported to be two infants and a Pig were exhumed at the entrance of a popular night Club, Amber Karaoke and Lounge. The suspect who is also the owner of the Night Club simply identified as Mr. Akeem allegedly opened the Club about a year ago at 112 Marian road, Calabr after he reported resigned as a bouncer at Jasper Night Club to start up his own.

Investigation reveals that Mr. Akeem rented the apartment from Southern Fried Chicken SFC last year.

The complex which also houses other businesses whose owners were unaware of the diabolical practices of Mr. Akeem until last week when God decided to expose him in a broad day light. A resident of the building who confided in this reporter said that luck ran out of Akeem when a Lady who owns a shop in the complex started noticing shortage in sales and customers and resorted to take her problems to God through a powerful Pastor in Cross River State.



Reports has it that on getting to the Prophet the shop owner was told that they were strange things buried in the complex that were preventing customers from patronizing her. The prophet promised to exhume the things if he is granted permission to do so.

It was further gathered that the shop owner reported the matter to the police and was granted permission to exhume the body.
According to verbal and video clips obtained by this reporter and attached to this report, the Prophet with the help of his servants is seen exhuming the bodies which were buried in 3 bags about a year ago.



Eye witnesses say that two of the bags contained skulls and bones suspected to be little babies while one contained bones and skull of a pig.
Meanwhile, the matter is currently being investigated by the State CID. Police sources who confided in this reporter say that the suspect initially denied any wrong doing but later confessed that in their tradition burying of pigs attract customers to any business and had no diabolical connotation.

Still in a bid to further cover up the crime, Mr. Akeem ran to a popular phone-in Radio programme hosted by a top Comedian in Cross River State, Last Prophet, on Hit FM to debunk the story. He informed listeners that nothing of such ever happened in his Club only for people who were present when the bodies were exhumed to phone in and affirm that they were present when the incident took place.
"Shot up Akeem I was there when the bodies were dug out from your club! A listener exclaimed on air.

A cross section of Cross River State indigenes and residents who spoke with our medium promised to follow up the matter and ensure that justice takes full its course. They described the incident as embarrassing and evil.

"My brother you can imagine what on earth will make a man to kill two children just because of attracting customers to a club. This is evil and embarrassing to all of us who reside here in Cross Rivers State. Thank God the issue is now with the police CID, we will follow it up till justice is achieved, God is still in the business of exposing evil doers and we thank him for this one". Mr. Okon, a resident of Marian said.

WATCH THE UNEDITED VIDEO CLIP+
BELOW:


---
Posted: at 17-12-2017 06:59 PM (3 years ago) | Addicted Hero