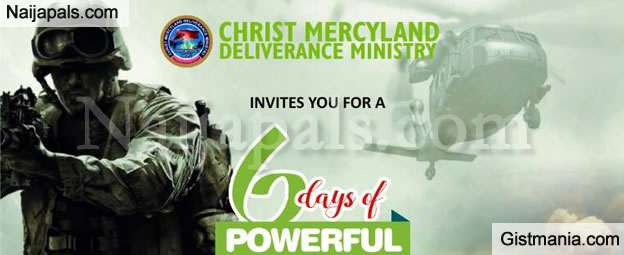 At a time when the average Nigerian is mired in a life struggle to eke out a living under the harsh economic recession, three Generals of the Lord's army from three different countries have worked out a six-day life-transforming impartation crusade guaranteed to cripple every devourer of your finances, stimulate your business, career, and vocations; restore hope and change your story from a victim to a victor and an over-comer.




The six-day power-packed crusade with the theme: Let There Be War And The Enemies Must Submit, will hold from March 14 to 19, 2018 at the Christ Mercyland Deliverance Ministry, Warri, Delta State, South-South Nigeria. The impartation crusade - which promises to deliver a once-in- a-life-time encounter - will feature the following men of God: The tireless general, Prophet Jeremiah Omoto Fufeyin of Christ Mercyland (host); Prophet-Shepherd Bushiri Major One of Enlightened Christian Gathering (ECG) Ministries from South Africa, and Senior Prophet Uebert Angel, The Emeritus of Spirit Embassy from USA respectively, as guest ministers.

According to a statement from the host, Prophet Fufeyin, the purpose of the six-day-long programme is to declare total war against poverty, sickness, and evil machinations of the enemy. His words: "The three anointed prophets of God are driven by one ultimate mission - to destroy every setback in your life. We shall gather under one roof, operate from one altar under one Saviour, Christ Jesus, to release financial freedom, cheetah grace, salvation, healings, miracles, deliverance and more, through the Word of God Almighty."

The programme Of Events is as follows: The opening ceremony will be by 3PM at the Mercy City Playground on Wednesday March 14. On 15th in the morning there will be fetching of the miracle water from the Pool of Bethesda by 8 am, while in the evening there will be a prophetic service with the three great prophets of God ministering; time 3PM at the play ground.




There will also be anointing service for Kingdom Builders at the church auditorium by 8AM; Candle Service with the three generals at the Angelic Chapel on the mountain is scheduled for 6PM. On Saturday 17th March, there will be Special Partners' Service Prayer with the three anointed prophets of God in the church auditorium by 9AM. On Sunday morning, there will be Breakthrough Service and prayer line touch, from 7:30AM in the main auditorium. On Sunday evening, one-on-one with the three prophets in the main auditorium by 3PM.

The grand finale of the six days powerful crusade is Seed For Divine Blessings Service, at the Angelic Chapel on the mountain by 10am on Monday, March 19, 2018.


Posted: at 9-03-2018 10:54 AM (4 years ago) | Newbie