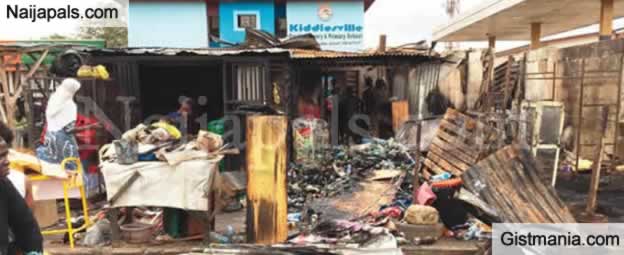 Some business owners in the Ikorodu area of Lagos State have bemoaned the fire which burnt their shops and destroyed goods said to worth millions of naira. The fire, which gutted four shops, started around 2am on Wednesday.



The fire was allegedly caused by an electrical spark inside one of the shops on Beach Road, opposite Ikorodu General Hospital, Lagos.

An eyewitness, Olamide Ojuope, said the fire occurred after he and his friends returned from an outing. Another victim, Idowu Yusuf, a food vendor, said she obtained a loan from a microfinance bank to establish her business, adding that the fire had damaged her trade.

She said,
"If you go there, you will see the extent of the damage. I lost goods worth N500, 000.

"I have called the officials of the microfinance bank to come and observe what happened and they were here. I want the government to help me."

The Public Affairs Officer, Lagos State Fire Service, Bola Ajao, said the fire service responded immediately it got a distress call on the incident.