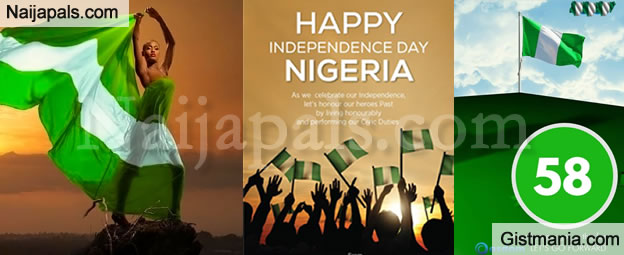 Today, Nigeria marks the 58th anniversary of her political freedom and attendant sovereignty from the British colonialists which took place on October 1, 1960. Fifty-eight years is significant in the life of a nation made up of an estimated 250 ethnic nationalities, with cultural and religious differences and divergent ideological persuasions. The survival of Nigeria as a country is appreciated when compared to the ugly experiences of other countries that were dismembered shortly or much later after they gained independence. It is in this context that the country must celebrate this year's Independence anniversary.

Going down memory lane, the immediate goal that the heroes and heroines of the country's Independence pursued when they struggled for Independence was national unity. Those at the forefront of the struggle for Nigeria's liberation included the late Sir Abubakar Tafawa Balewa, Sir Ahmadu Bello, Dr Nnamdi Azikiwe, Chief Herbert Macaulay and Chief Anthony Enahoro. Others were Chief Obafemi Awolowo and Mrs Funmilayo Ransome-Kuti. Though they engaged in different activities, they had as a cardinal objective the unity of those brought together within the borders of the territory called Nigeria, regardless of ethnic, cultural and religious differences.

In the last 58 years, the country has been intact, as no territory has successfully seceded from Nigeria since Independence. But the challenge of national cohesion has not been totally achieved in spite of constitutional provisions and other legal instruments put in place to achieve it. The threats to national cohesion have affected both political and economic development of Nigeria. It is unfortunate that the elite in power, who should take the lead in ensuring national cohesion, has demonstrated much of selfishness and less of selflessness when carrying out their tasks.

In the last few years, insecurity has plagued the country as various sections of the country are tainted with insurgency and secessionist agitations. In the North-East, it is the Boko Haram insurgency; in the South-South, it is the amoebic Niger Delta militia; in the South-West it was Odu'a People's Congress (OPC) and in the South-East there was MASSOB which has mutated to Indigenous Peoples of Biafra, IPOB. With such besetting insurgencies, the mutual suspicion among Nigeria's ethnic communities is energised to the point that political and economic considerations tend to be weighed on the scale of ethnicity. If this continues without let, in the next few years, the country's independence would be jeopardised and the sacrifices of the Founding Fathers would have been betrayed.

Alluding to this problem, President Muhammadu Buhari, in his October 1, 2017 national broadcast, said, "I am very disappointed that responsible leaders of these communities do not warn their hot-headed youths [about] what the country went through [during the Civil War]. Those who were there should tell those who were not there, the consequences of such folly. At all events, proper dialogue and any desired constitutional changes should take place in a rational manner, at the National and State Assemblies…"




There is enough evidence that many countries, especially in Asia, who gained Independence at the same time as Nigeria, have joined the league of developed countries. They export their finished products to Nigeria. Without a vibrant productive sector, a country is doomed. Apparently, Nigeria has been left behind by its peers in the race for economic development. But it is not too late to step into the right track to run that race. Incidentally, this year's Independence anniversary is taking place in an election year when Nigerians have the golden opportunity to elect a new set of leaders. In 2019, Nigerians should ensure that only those who have the passion to unite Nigeria and galvanize it towards national development should be voted into power. Those who put themselves forward for election should be prepared to make sacrifices necessary to bring about economic development of Nigeria.

May we as a nation, continue to rise and rise

Happy Independence Anniversary!
---
Posted: at 1-10-2018 06:45 AM (2 years ago) | Hero