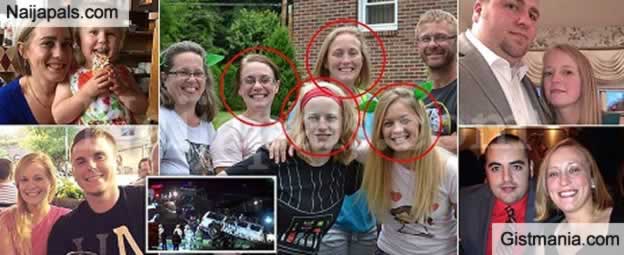 Four sisters and their husbands are among 20 people dead after a limousine taking them to a surprise 30th birthday careened through a junction, hit two pedestrians and then plunged into a steep ditch.

Abigail Jackson, Mary Dyson, Allison King and Amy Steenburg - whose birthday they were en route to celebrating - all died alongside husbands Adam Jackson, Robert Dyson and Axel Steenburg in the crash, which happened around 2pm on Saturday in upstate New York.

Also killed was Rich Steenburg, Axel's brother, newlyweds Erin and Shane McGowan, Erin's cousin Patrick Cushing and limousine driver Scott Lisinicchia.

Tributes poured in online after the accident, as surviving relatives identified their loved ones among the victims. Abby Jackson and her husband Adam, parents to four-year-old Archer and 16-month-old Abby, were killed.

In total 18 people inside the limo part of a group of relatives, school and neighborhood friends from Amsterdam, New York were killed while two pedestrians were hit and killed in America's deadliest transportation accident since a plane crash killed 50 in 2009.

The limousine had been coming down a hill in Schohaire when it failed to stop at a junction, suggesting that either a brake failure or driver error was to blame - though police say they will not speculate on the cause until their investigation has completed.

Amy and her husband Axel Steenburg, 29, who only got married in June this year, along with Axel's 34-year-old brother Rich Steenburg, were also killed.

Mary Dyson and her husband Robert, as well as her sister Allison King, were also among the casualties.

Erin cousin's, Patrick Cushing, was also among the dead. The limo driver has also been named, by his twin brother, as Scott Lisinicchia, 53. He was headed to Cooperstown when the limo crashed.

Family members told the Washington Post that the group hadn't even meant to get the limousine which crashed. They had rented 'some kind of bus' to go the Cooperstown but it broke down before it arrived at the party venue, so the rental company sent the stretch limousine instead.

Erin McGowan was so disturbed by the state of the car she texted her sister saying: 'The vehicle appeared in terrible condition,' according to her aunt Valerie Abeling.

Within twenty minutes of the text, all the passengers were dead.

---