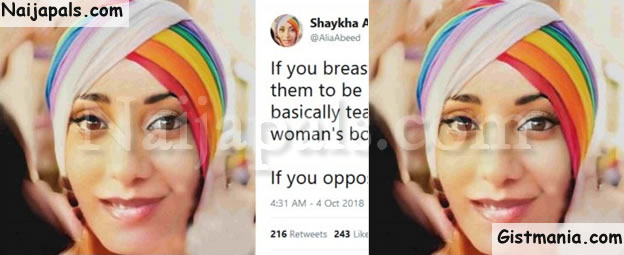 A lady identified as Alia Abeed has courted controversy on the popular social media platform, Twitter after she posted that women are simply helping their sons to be a potential rapist by Bosom feeding them.




The lady who believes when a woman Bosom feeds her sons, the are being taught to understand how to explore the body of a woman and this might affect their thoughts on women later in their life.




She wrote:

If you Bosom feed your sons, you are training them to be rapists when they grow up. You're basically teaching them that they can touch a woman's body whenever they want. If you oppose rape, stop Bosom feeding boys!

Her posts however did not go well with her followers, who didn't waste time to berate her over what most people considered as a silly statement coming from an idiot.



See their comments below:


Why don't you visit a good Psychologist? I will pay your fee, in case you it.


If you Bosom feed your sons, you are training them to be rapists when they grow up. You're basically teaching them that they can touch a woman's body whenever they want.

If you oppose rape, stop Bosom feeding boys!

— Shaykha Alia (@AliaAbeed) October 4, 2018
Why don't you visit a good Psychologist? I will pay your fee, in case you it

— khalid jamal (@mk_jamal) October 4, 2018
Dear God, help this sister for me, she needs your intervention.

— Xavi3r (@xavier_utit) October 12, 2018
I would have offered to treat her for free but her foolishness is making me doubt myself. Not sure I can do it alone, will need a committee to help this one

— CookieMonsta (@cyberrboi) October 12, 2018
October 12, 2018
Wait fess, let me confirm from the oracle pic.twitter.com/3V2c0AmK4h

— Ogbẹ́ni Eazzie (@zicorulz) October 13, 2018
Problem with this article? Please contact us
---