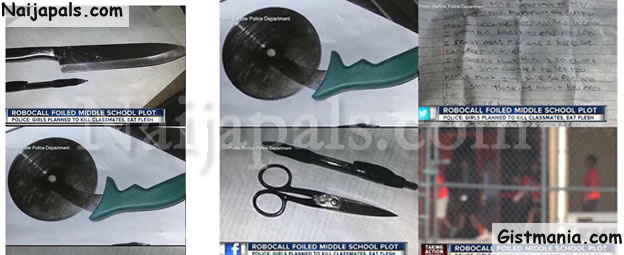 Two girls at a middle school in central Florida were waiting in a bathroom, planning to overpower at least 15 smaller students, kill them with knives and drink their blood, authorities said Wednesday.

The Bartow Middle School students were arrested Tuesday and charged with conspiracy to commit murder, possession of a weapon on school property, carrying a concealed weapon, and disruption of a school function, Bartow Police Chief Joe Hall said during a news conference.

According to officials, the 11- and 12-year-old girls said they were Satan worshipers and were going to drink the blood out of the goblet they were found with and eat the flesh. The girls then planned to kill themselves, they said.

The plan was foiled Tuesday after an automated call from the school notified one of the girls' parents that the daughter was missing from class, Hall said.


The district attorney has not indicated whether the girls will be tried as adults. The 11-year-old spent the weekend at the 12-year-old's home, and on Sunday, after a day of watching horror films, "they devised a plot to kill several students" at the middle school, according to a police report



The girls decided they would attend their first-period classes, then meet in a bathroom, where they would wait for smaller students and overpower them, according to a police report. They "did not want to attack larger students," the report says.

Using knives tucked under their clothes, the plan was to stab their victims and cut their throats. The preteens conducted internet searches on how to kill someone with a knife and what type of wound would cause their victims "to bleed out the fastest."

Upon killing each victim, the report says, they intended to stack her or him in a bathroom stall and wait for the next small student to enter the bathroom.

"After the students were dead, they would eat parts of the dead flesh," the report says, adding that the girls aimed to kill between 15 and 25 students. The girls then planned to kill themselves by stabbing, and hoped that they would get to go to hell to be with satan.
---
Posted: at 27-10-2018 01:15 PM (2 years ago) | Addicted Hero