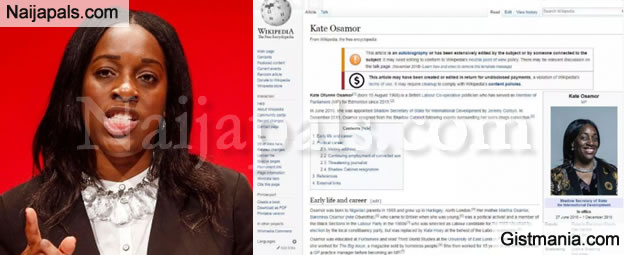 A Nigerian lawmaker in UK, Kate Osamor, has been banned from Wikipedia for repeatedly editing her profile on the site.

The Nigerian Labour MP who attempted to remove references to a story about claims she plagiarised Barack Obama's acceptance speech, was reportedly banned from Wikipedia. The Sun reported that the Osamor threatened to sue the organisation, if the references returned.

The Nigerian lawmaker in UK who was caught copying the former US President's famous 2008 speech when she was re-elected in the General Election, was forced to quit as Mr Corbyn's Shadow International Development Secretary yesterday over accusations she misled the public over her son's drug offences and threatening to hit a journalist with a bat.



It was gathered that she replaced the word "America" with "Labour" and her constituency name "Edmo[/center]nton" in nearly identical comments. Osamor who changed the references on her Wikipedia page by using the pseudonym Midnights1 and further wrote how she had "paid homage to Barak [sic] Obama" – claiming she had "not at any time in my speech" claimed it was her original words, ad initially been warned her about "disruptive editing" but then blocked her for three days for "vandalism" after she refused to heed its warnings.

She however warned Wikipedia: "If I see it added again I will have no choice but to sue the editor and the platform that allowed it to be posted." However the lawmaker who reportedly had an account called "KateOsamor", which she used to make minor edits to the personal details on her Wikipedia page – including insisting on the site using the "honorary prefix" of MP, was reportedly told by Wikipedia that she has been "blocked indefinitely from editing for making legal threats or taking legal actions".

The lawmaker also reportedly quit yesterday after a string of embarrassing scandals including an accusation against her of misleading the public, by keeping her drug dealer son in a £50,000 communications job with the party. She has also been blasted for nepotism for getting her 29-year-old son the job, despite him being found with drugs worth £2,500 at the Bestival music festival in Dorset in 2017. She quit her role to "support her family", she said in a statement on Saturday
---
Posted: (1 year ago) on 3-12-2018 08:21 AM | Addicted Hero