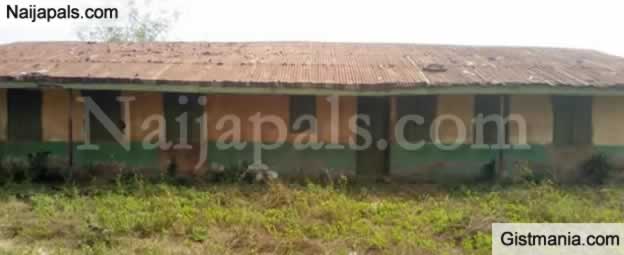 The teachers and pupils of a primary school in Ekiti state have begun to panic after a madman and hoodlums reportedly took over the school. A block of classrooms at AUD Primary School, Irona, Ado Ekiti, on Monday. Photo: Abiodun Nejo

According to a report by Punch Metro, the occupation of AUD Primary School, Irona Ado Ekiti, by a madman and hoodlums has sparked anxiety among teachers and parents over the safety of the pupils.

Apart from the lunatic, who occupies about 10 classrooms, suspected rapists, burglars and Indian hemp smokers are said to have made the school their hideout.


It was learned that the lunatic often chased the pupils around and threw stones at their teachers.

Some of the teacher, who spoke with Punch Metro on condition of anonymity, claimed the development had forced some of the parents to withdraw their children from the school.

The headteacher, Mrs. Taibat Yusuf, who said activities of the lunatic and suspected criminals were constituting threats to learning in the school, appealed to the state government to intervene.

Yusuf said,

Quote

"We are calling on the state government to help us remove the lunatic from the school compound because of the threat he poses to the pupils and teachers.

"The lunatic chases our pupils, throws stones at teachers and threatens them anytime they are in school.

"Teachers and pupils are always gripped by fear that he may invade their classrooms at any time and this won't make them to concentrate.

"Our school compound has been turned into a den of rapists, Indian hemp smokers and other criminals and this has led to the withdrawal of many pupils from the school.

"Besides, we want government to renovate the collapsing fence which gives easy access to the lunatic and the hoodlums.

"Many of our classrooms are dilapidated and the school also needs a gate."



An alumnus of the school, Alhaji Olorunkemi Ogunjobi, said,

Quote

"It is a pity that my former school has become the home of a madman and criminals."

Ogunjobi added, "We want the police and civil defence officers to come here and arrest the lunatic. Besides, the government should employ security men to guard the school."
---