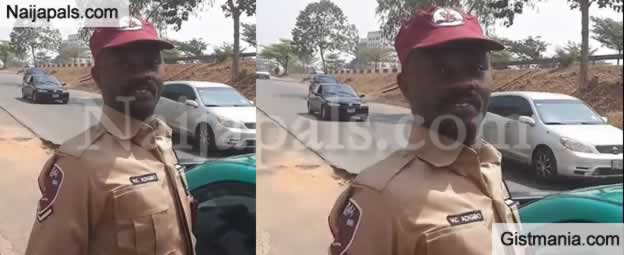 A man has raised alarm after an officer of the Federal Road Safety Corps chased him for over 25 minutes in Abuja. A Nigerian man, Chukwuma Okere was left in a state of shock after a Federal Road Safety Corps officer reportedly chased him for over 25 minutes in Abuja.

Okere said that he was scared and decided to divert to a police checkpoint and stopped. When the FRSC officer confronted him, he asked for an ID card, but the officer couldn't tender any.
Read his post below:



Quote

"Today I had a scary experience with a "supposed" road safety officer who chased me from central area abuja to mabuchi in a green taxi.

As I was driving I noticed I was being followed by a green taxi which scared me because most day time car snatchers usually move around in green taxis. The taxi driver and the passenger were seriously flagging me down to stop so I hurriedly drove towards mabuchi Bridge were I know has police check point.

When I stopped, the man in the video claimed he's a road safety officer but didn't have any I. D on him. He claimed he saw me making a call whilst driving and that was the reason he had been chasing me around town for over 25 minutes.

When I started shouting he entered his taxi and ran way. If this is truly a road safety officer then the Federal Road Safety needs to call people like him to order. Why would he chase me around town without a road safety vehicle or bike? Not even in the company of another officer?.
This event shook me, I won't lie and he went as far as claiming that he had marked my car which I perceived as a threat because his identity was questionable.

This is a call to the Federal Road Safety and security agencies to look into this matter, fish out this person, determine whether he is an impostor and take necessary action towards same. If he's truly an officer then he ought to be severely disciplined and given fresh induction on how to conduct himself as an officer of the Federal Road Safety Corps."



Watch the video below:

Problem with this article? Please contact us
---