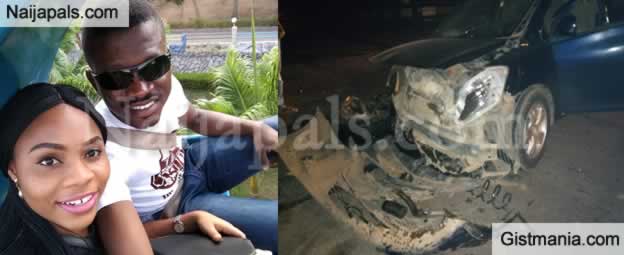 A man has taken to social media to celebrate one year anniversary of his survival along with wife after being involved in a horrific motor accident in Abuja.

According to Ifeanyi Charles Nwoko, the accident which happened last year March saw his vehicle badly damaged after being hit by another car which was from the airport.


Read the full report below as shared by Ifeanyi on Facebook.
Quote
HOW GOD defeated the devil

Exactly one year ago, on the Night of March 3rd, just by the Churchgate junction, the devil made an attempt on my life and that of my wife. Coming from Wuse, a car coming from the airport rammed into my car from the passenger side where my wife was seated.

Impact:. My tyre came off together with the rim and shocks, my chassis bent, my engine bust open and shifted to the other side along with the gear box. My car spun 3 times and stopped.

I was scared, I looked at my wife and asked if she was okay she said yes. I came down, pulled her out and we went to the other side of the road. I stepped on my engine oil on the ground while I crossed.

When we sat, I was bleeding from the head, my wife was okay just shocked. A good Samaritan took us to the hospital where my head was stitched from two slightly-beyond-minor cuts.

My wife's hand was slightly bruised and that was all for her, apart from the shock.

God really came through. Two weeks later, wen I tell people that my head was stitched they find it hard to believe cos of how healed the wound was.

Two months later, God blessed us with another car better than the last.
Long story short:. God gave the devil multiple jabs for our sake. He saved my wife Adanna Uwaleme Nwoko and I and we remain eternally grateful to him. PLS help us thank GOD, the one that effectively shields us

---