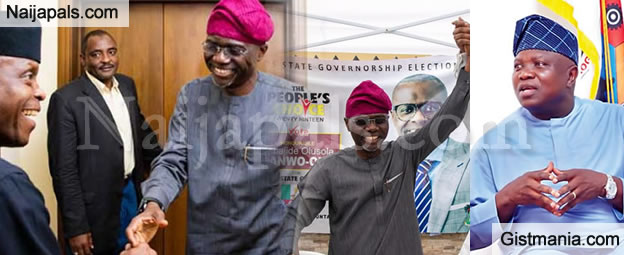 Babajide Sanwo-Olu of the APC has been announced winner of the gubernatorial election in Lagos.
He defeated Jimi Agbaje of the PDP by 533,304 votes.





This wasn't just a win, it was a summary defeat of the most unprecedented kind. If there was a better word or figure of speech better than landslide, then it would have been much better to use, so for want of another word to use we would just say it was a landslide victory. For the amiable candidate of the APC, represented by none other than Babajide Olusola Sanwoolu, total vote was 739,445 and for the gentleman known to all as Jimi Agabaje aka JK of the PDP, total vote is 206, 141 meaning even if, Agbaje's vote was multiplied by three (3), still yet he wouldn't have been able to defeat, the APC candidate.

So what that means is that the margin of win was twice the nos of votes the PDP man got overall, that meant that the win was total in all ramifications with a margin of 533,304 votes.

It was a comprehensive win in all the LGAs of the state as follows-
Lagos Mainland-27333 to 7265
Lagos Island-31991 to 4346
Epe LGA-35609 to 6464
Ikeja LGA-28592 to 8109
Ikorodu LGA-45879 to 14769
Amuwo-Odofin-23267 to 13700
Ibeji-Lekki LGA-23398 to 3320
Agege LGA-38515 to 8371
Apapa LGA-20469 to 5959
Somolu LGA-40408 to 9991
Eti-Osa LGA-30504 to 10678
Oshodi-Isolo-39945 to 12585
Mushin LGA-51899 to 8751
Kosofe LGA-44423 to 14351
Surulere LGA-39986 to 13733
Badagry LGA-28921 to 10089
Ifako-Ijaiye LGA-35144 to 7233
Ajeromi-Ifelodun-43975 to 14690
Alimosho LGA-78379 to 22135
Ojo LGA-30904 to 9602.

So with the above result and having polled the majority results and satisfied the requirements, Mr. Babajide Olusola Sanwoolu of APC on Lagos was declared the winner of the Lagos State Governorship Election 2019 & Governor Elect by the INEC returning officer for the state, who is also the Vice-Chancellor of the Obafemi Awolowo University of Ife, in the person of Prof. Eyitayo Ogunbodede.

With this win, the fine gentleman also known by his initials BOS, would take the baton as the next Executive Governor of the most powerful state in Nigeria from the hand of his excellency, Mr. Akinwunmi Ambode, who God willing might be taking up a federal appointment in the 2nd term of President Muhammadu Buhari.

A massive and very unreserved congratulations to the duo of Mr. Babajide Olusola Sanwoolu and his Deputy, Dr. Kadri Obafemi Hamzat. May your time in charge of the State of excellence, lift Lagos very high up, far above in all ways.
---