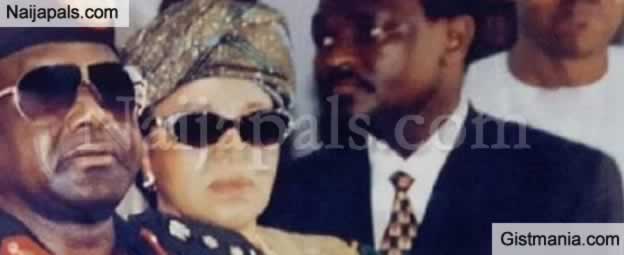 Former Chief Security Officer, CSO, to the late Head of State, Gen Sani Abacha, Major Hamza Al-Mustapha, has dismissed claims that Abacha died after eating an apple from his concubines. .
Narrating how the former Head of State died, Al-Mustapha said contrary to insinuations, the sudden collapse of the health system of Abacha started on "Sunday, 7th June, 1998 right from the Abuja International Airport, immediately after one of the white security operatives or personnel who accompanied President Yasser Arafat of Palestine shook hands with him, Abacha."
.
Al-Mustapha said shortly after the hand shake, he "noticed the change in the countenance of the late Commander-in-Chief and I informed the Aide-de-Camp, Lt. Col. Abdallah, accordingly. He, however, advised that we keep a close watch on the Head of State." He said, "Later in the evening of 8th June, 1998, around 6p.m; his doctor came around, administered an injection to stabilize him.

He was advised to have a short rest. Happily, enough, by 9p.m; the Head of State was bouncing and receiving visitors until much later when General Jeremiah Timbut Useni, the then Minister of the Federal Capital Territory, came calling. He was fond of the Head of State. They were very good friends. "They stayed and chatted together till about 3.35a.m. .
A friend of the house was with me in my office and as he was bidding me farewell, he came back to inform me that the FCT Minister, General Useni was out of the Head of State's Guest House within the Villa. I then decided to inform the ADC and other security boys that I would be on my way home to prepare for the early morning event at the International Conference Centre. "At about 5a.m; the security guards ran to my quarters to inform me that the Head of State was very unstable. At first, I thought it was a coup attempt. Immediately, I prepared myself fully for any eventuality.

As an intelligence officer and the Chief Security Officer to the Head of State for that matter, I devised a means of diverting the attention of the security boys from my escape route by asking my wife to continue chatting with them.
Problem with this article? Please contact us
---