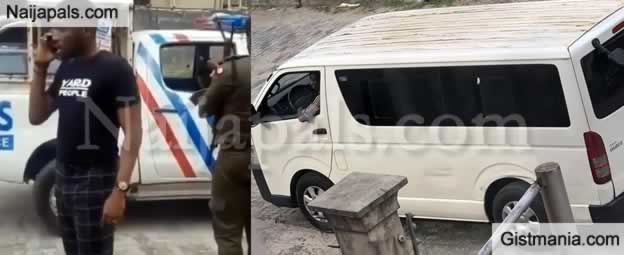 The Nigerian Police Force has replied the public, first lady and Busola Dakolo over attempt to bring the couple in, most importantly Busola Dakolo to the police station for questioning in relation to the investigation on the rape case petitioned by Busola Dakolo. The operation was not successful as the Dakolos quickly engaged their social media prowess in ensuring that every move of the police was covered and streamed to their millions of followers, before the police men voluntarily departed their location. You can read the press release from the Nigerian Police Force below:



Quote



In reply please quote
Ref No. CZ.5300/FPRD/FHQ/ABJ/VOL.2/59 Date: 20th July, 2019
The Director of News
PRESS RELEASE
POLICE CONFIRM INVITING BISOLA AND TIMI DAKOLO
*Reassures Citizens of its Commitment to Justice
The Nigeria Police Force is confirming that its operatives today, 20th July, 2019 served official Invitation Letters on Bisola and Timi Dakolo. The invitation is sequel to an on-going police investigation touching on the wider and highly publicized case involving Bisola Dakolo, Pastor Biodun Fatoyinbo and others.
It is important however to note that a Police Invitation Letter is not synonymous with a Warrant of Arrest, and must not be construed to be one. Rather, it is a polite investigative tool used in eliciting information voluntarily from parties to aid police investigations.
Members of the public should see it as a legitimate act in line with the constitutional mandate of the police, which among other things include the investigation of all complaints brought before it.
The Inspector General of Police, IGP MA Adamu NPM, mni has appealed for calm, and is reassuring Nigerians that the Police Force under his watch will remain professional, impartial and unreservedly committed to the pursuit of justice in this case and all other cases before it.
DCP FRANK MBA
FORCE PUBLIC RELATIONS OFFICER
FORCE HEADQUARTERS
ABUJA











Earlier:



Quote

Father of 3 and husband of Busola Dakolo, top Bayelsan musician Timi Dakolo has risen to the occasion and has vowed not to, never to be intimidated by the might of Pastor Biodun Fatoyinbo and the Police combined.

The young man, whose beloved wife - Busola, the mother of his 3 adorable kids had confessed a few weeks ago that she was raped and molested not once by Pastor Biodun Fatoyinbo of COZA when she was 16 going on 17 has vowed to protect and support his wife and kids at this trying times no matter what, including intimidation by Pastor Biodun using the Police as a tool. Hear him....

His words, "Our lawyers had told us to get ready for this letter. We have long been ready for this type of institutionalized intimidation and dirtiness. Investigating officials have frustrated as a result of underhand delay? Dirty bloggers are fabricating things that cover the truth, going to the IG's people under dark to force this case to be posted to Abuja?

Now this: a false investigation in Abuja when our own petition filed since June has not been answered and NO INVITATION HAS BEEN MADE TO THE ACCUSED IN A RAPE CASE?

! NOT ONE MOVEMENT TOWARDS JUSTICE??? Rubbishing the legal and criminal system? Father accused of sexual assault on 3 daughters remanded in prison(Opens in a new browser tab) And sending a bus load of questionable armed "policemen" and shady men lying in wait to intimidate my wife and children today, forcing their way into my home?
Is that how the REAL police delivers a letter? This is best you can do? This is why all the hurting women and families haven't come out with HORRIBLE THINGS DONE TO THEM???!!
You picked the wrong one and you picked the wrong time. Nigerians are more awake than you think. I will fight for my wife and my children -it's the promise I made with my life and one I intend to keep I will defend them from the unrelenting attack of a weak man who thinks he can use money and power to cover for all of his crimes. Like I said, we have since been ready. GIVE US THE FIRE, THEN WATCH ME WORK!".
---