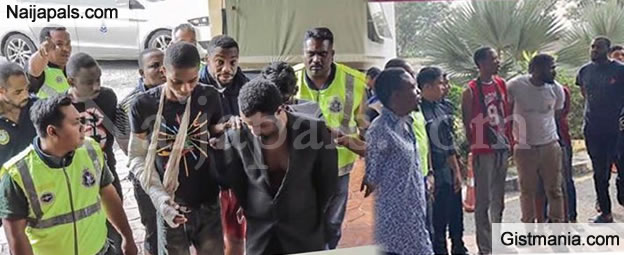 10 Nigerians have pleaded not guilty at the Magistrate's Court, to charges of assaulting police officers and rioting during a raid at an apartment in Malaysia, last month.

The men aged between 22 and 37 were accused of disturbing public peace by rioting on July 25, 2019, as well as causing hurt and using criminal force to intimidate four policemen at Flora Damansara.

They face charges under Section 147 of Penal Code for rioting, and also Sections 332 and 353 for assaulting and intimidating, respectively, offences which carry jail sentences of between two and three years as well as fines.




Meanwhile, six other Nigerians have been charged for overstaying their visa. Another 14 Nigerians pleaded guilty to a charge of staying illegally, facing a maximum RM10,000 fine and a jail sentence of up to five years.

Magistrate Mohamad Ikhwan Mohd Nasir denied them bail, and set Sept 5 for case mention. On July 25, three policemen and an officer of the Commercial Crime Investigation Department at Petaling Jaya district headquarters were attacked while trying to arrest a Nigerian man suspected of being involved in scams.

The incident caught the attention of Home Minister Muhyiddin Yassin, who said the government would not compromise with anyone who violates the law or obstructs the police in performing their duties.
---